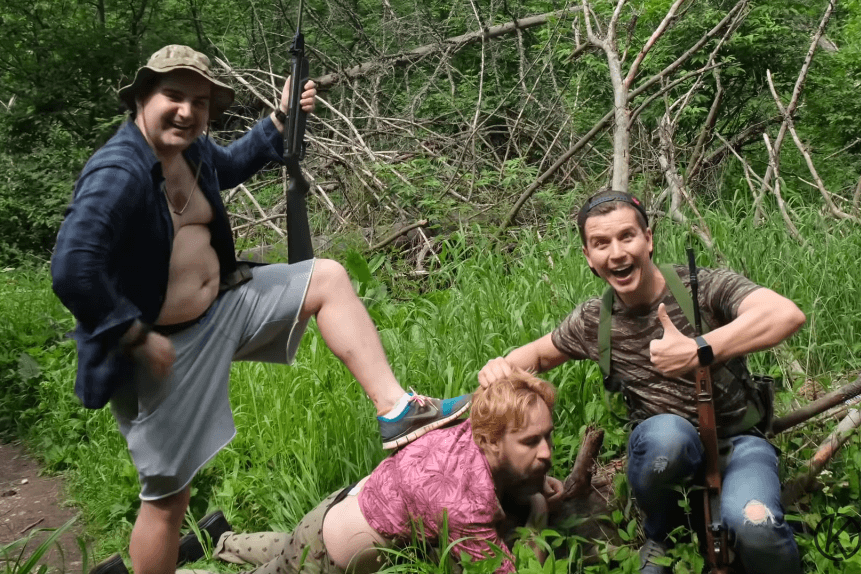 Questionable advertising of the amendments to the Constitution resulted in the fact that it began to appear numerous parodies. Parody of an advertisement of amendments to make ordinary netizens, famous bloggers and even a TV celebrity.
Mitya Khrustalev take on the First channel
Team "Evening Urgant" parodied resonance is homophobic amendments. In the video Ivan Urgant and Alexander Gudkov take Mitya Khrustalev with TNT on the First channel.
[embedded content]
Hunt for gays
Blogger Denis Kosyakov is also used in his parody of the theme of homophobia. But went on and showed a hunt for gays, which begins in Russia after the adoption of the amendments to the Constitution.
[embedded content]
Ksenia Sobchak with the gnome
Ksenia Sobchak in his show "Sobchak Gently" made fun of the commercial with a figure skater Yevgeny Plushenko and his wife Yana Rudkovskaya and their son Sasha. The original video has caused many people sympathy for a child whose parents called Dwarf Gnomic and dragged into political advertising.
AAAAAAAAA SOBCHAK is SIMPLY the BEST pic.twitter.com/AcQKUzelDV

— Blueberry samosoglasovannye (@NatashaChernika) June 20, 2020
Parody from Sobchak looks quite unexpectedly, given that she's friends with Yana Rudkovskaya. Xenia was the producer of the reality show "Super Jan" about the life of Yana Rudkovskaya and her family.
Ilya Sobolev in the role of the whole family Plushenko
A parody of the movie family Plushenko Rudkovskaya made famous by comedian Ilya Sobolev. He played all members of the family and strictly went through all moments in the original video.
[embedded content]
Yana Rudkovskaya commented both parody of an advertisement of the amendments. She stated that the option of Ilya Sobolev liked her more.
Pulp fiction
Blogger and comedian Alexander Thorne drew attention to the voting process and counting of votes. He made fun of it in parody style of the movie "pulp fiction."
🔥Vincent VEGA and voting in the trunk pic.twitter.com/AUix0IHDBU

— AlexanderThorn (@AlexanderThorn_) June 26, 2020
Without the Constitution, all ashes
On YouTube channel "Little ashes" was a parody, which shows life in Russia without amendment. People think Pikachu founder of Rus sex change surgery became mandatory. And even there is no God, because it is not made in the Constitution.
[embedded content]
@-webkit-keyframes votes-bar{from{-webkit-transform:scaleX(0);-moz-transform:scaleX(0);-ms-transform:scaleX(0);-o-transform:scaleX(0);transform:scaleX(0)}to{-webkit-transform:scaleX(1);-moz-transform:scaleX(1);-ms-transform:scaleX(1);-o-transform:scaleX(1);transform:scaleX(1)}}@-moz-keyframes votes-bar{from{-webkit-transform:scaleX(0);-moz-transform:scaleX(0);-ms-transform:scaleX(0);-o-transform:scaleX(0);transform:scaleX(0)}to{-webkit-transform:scaleX(1);-moz-transform:scaleX(1);-ms-transform:scaleX(1);-o-transform:scaleX(1);transform:scaleX(1)}}@-ms-keyframes votes-bar{from{-webkit-transform:scaleX(0);-moz-transform:scaleX(0);-ms-transform:scaleX(0);-o-transform:scaleX(0);transform:scaleX(0)}to{-webkit-transform:scaleX(1);-moz-transform:scaleX(1);-ms-transform:scaleX(1);-o-transform:scaleX(1);transform:scaleX(1)}}@keyframes votes-bar{from{-webkit-transform:scaleX(0);-moz-transform:scaleX(0);-ms-transform:scaleX(0);-o-transform:scaleX(0);transform:scaleX(0)}to{-webkit-transform:scaleX(1);-moz-transform:scaleX(1);-ms-transform:scaleX(1);-o-transform:scaleX(1);transform:scaleX(1)}}#totalpoll-id-d751713988987e9331980363e24189ce.totalpoll-poll-container{line-height:1.5;font-family:inherit;font-size:14px;padding:1em}#totalpoll-id-d751713988987e9331980363e24189ce.totalpoll-poll-container *{box-sizing:border-box;-webkit-box-sizing:border-box;-moz-box-sizing:border-box;-o-box-sizing:border-box;line-height:inherit;font-family:inherit;font-size:inherit}#totalpoll-id-d751713988987e9331980363e24189ce.totalpoll-poll-container div,#totalpoll-id-d751713988987e9331980363e24189ce.totalpoll-poll-container span,#totalpoll-id-d751713988987e9331980363e24189ce.totalpoll-poll-container applet,#totalpoll-id-d751713988987e9331980363e24189ce.totalpoll-poll-container object,#totalpoll-id-d751713988987e9331980363e24189ce.totalpoll-poll-container iframe,#totalpoll-id-d751713988987e9331980363e24189ce.totalpoll-poll-container h1,#totalpoll-id-d751713988987e9331980363e24189ce.totalpoll-poll-container h2,#totalpoll-id-d751713988987e9331980363e24189ce.totalpoll-poll-container h3,#totalpoll-id-d751713988987e9331980363e24189ce.totalpoll-poll-container h4,#totalpoll-id-d751713988987e9331980363e24189ce.totalpoll-poll-container h5,#totalpoll-id-d751713988987e9331980363e24189ce.totalpoll-poll-container h6,#totalpoll-id-d751713988987e9331980363e24189ce.totalpoll-poll-container p,#totalpoll-id-d751713988987e9331980363e24189ce.totalpoll-poll-container blockquote,#totalpoll-id-d751713988987e9331980363e24189ce.totalpoll-poll-container pre,#totalpoll-id-d751713988987e9331980363e24189ce.totalpoll-poll-container a,#totalpoll-id-d751713988987e9331980363e24189ce.totalpoll-poll-container abbr,#totalpoll-id-d751713988987e9331980363e24189ce.totalpoll-poll-container acronym,#totalpoll-id-d751713988987e9331980363e24189ce.totalpoll-poll-container address,#totalpoll-id-d751713988987e9331980363e24189ce.totalpoll-poll-container big,#totalpoll-id-d751713988987e9331980363e24189ce.totalpoll-poll-container cite,#totalpoll-id-d751713988987e9331980363e24189ce.totalpoll-poll-container code,#totalpoll-id-d751713988987e9331980363e24189ce.totalpoll-poll-container del,#totalpoll-id-d751713988987e9331980363e24189ce.totalpoll-poll-container dfn,#totalpoll-id-d751713988987e9331980363e24189ce.totalpoll-poll-container em,#totalpoll-id-d751713988987e9331980363e24189ce.totalpoll-poll-container font,#totalpoll-id-d751713988987e9331980363e24189ce.totalpoll-poll-container img,#totalpoll-id-d751713988987e9331980363e24189ce.totalpoll-poll-container ins,#totalpoll-id-d751713988987e9331980363e24189ce.totalpoll-poll-container kbd,#totalpoll-id-d751713988987e9331980363e24189ce.totalpoll-poll-container q,#totalpoll-id-d751713988987e9331980363e24189ce.totalpoll-poll-container s,#totalpoll-id-d751713988987e9331980363e24189ce.totalpoll-poll-container samp,#totalpoll-id-d751713988987e9331980363e24189ce.totalpoll-poll-container small,#totalpoll-id-d751713988987e9331980363e24189ce.totalpoll-poll-container strike,#totalpoll-id-d751713988987e9331980363e24189ce.totalpoll-poll-container strong,#totalpoll-id-d751713988987e9331980363e24189ce.totalpoll-poll-container sub,#totalpoll-id-d751713988987e9331980363e24189ce.totalpoll-poll-container sup,#totalpoll-id-d751713988987e9331980363e24189ce.totalpoll-poll-container tt,#totalpoll-id-d751713988987e9331980363e24189ce.totalpoll-poll-container var,#totalpoll-id-d751713988987e9331980363e24189ce.totalpoll-poll-container b,#totalpoll-id-d751713988987e9331980363e24189ce.totalpoll-poll-container i,#totalpoll-id-d751713988987e9331980363e24189ce.totalpoll-poll-container center,#totalpoll-id-d751713988987e9331980363e24189ce.totalpoll-poll-container dl,#totalpoll-id-d751713988987e9331980363e24189ce.totalpoll-poll-container dt,#totalpoll-id-d751713988987e9331980363e24189ce.totalpoll-poll-container dd,#totalpoll-id-d751713988987e9331980363e24189ce.totalpoll-poll-container ol,#totalpoll-id-d751713988987e9331980363e24189ce.totalpoll-poll-container ul,#totalpoll-id-d751713988987e9331980363e24189ce.totalpoll-poll-container li,#totalpoll-id-d751713988987e9331980363e24189ce.totalpoll-poll-container fieldset,#totalpoll-id-d751713988987e9331980363e24189ce.totalpoll-poll-container form,#totalpoll-id-d751713988987e9331980363e24189ce.totalpoll-poll-container label,#totalpoll-id-d751713988987e9331980363e24189ce.totalpoll-poll-container legend,#totalpoll-id-d751713988987e9331980363e24189ce.totalpoll-poll-container table,#totalpoll-id-d751713988987e9331980363e24189ce.totalpoll-poll-container caption,#totalpoll-id-d751713988987e9331980363e24189ce.totalpoll-poll-container tbody,#totalpoll-id-d751713988987e9331980363e24189ce.totalpoll-poll-container tfoot,#totalpoll-id-d751713988987e9331980363e24189ce.totalpoll-poll-container thead,#totalpoll-id-d751713988987e9331980363e24189ce.totalpoll-poll-container tr,#totalpoll-id-d751713988987e9331980363e24189ce.totalpoll-poll-container th,#totalpoll-id-d751713988987e9331980363e24189ce.totalpoll-poll-container td,#totalpoll-id-d751713988987e9331980363e24189ce.totalpoll-poll-container article,#totalpoll-id-d751713988987e9331980363e24189ce.totalpoll-poll-container aside,#totalpoll-id-d751713988987e9331980363e24189ce.totalpoll-poll-container audio,#totalpoll-id-d751713988987e9331980363e24189ce.totalpoll-poll-container canvas,#totalpoll-id-d751713988987e9331980363e24189ce.totalpoll-poll-container details,#totalpoll-id-d751713988987e9331980363e24189ce.totalpoll-poll-container figcaption,#totalpoll-id-d751713988987e9331980363e24189ce.totalpoll-poll-container figure,#totalpoll-id-d751713988987e9331980363e24189ce.totalpoll-poll-container footer,#totalpoll-id-d751713988987e9331980363e24189ce.totalpoll-poll-container header,#totalpoll-id-d751713988987e9331980363e24189ce.totalpoll-poll-container hgroup,#totalpoll-id-d751713988987e9331980363e24189ce.totalpoll-poll-container mark,#totalpoll-id-d751713988987e9331980363e24189ce.totalpoll-poll-container menu,#totalpoll-id-d751713988987e9331980363e24189ce.totalpoll-poll-container meter,#totalpoll-id-d751713988987e9331980363e24189ce.totalpoll-poll-container nav,#totalpoll-id-d751713988987e9331980363e24189ce.totalpoll-poll-container output,#totalpoll-id-d751713988987e9331980363e24189ce.totalpoll-poll-container progress,#totalpoll-id-d751713988987e9331980363e24189ce.totalpoll-poll-container section,#totalpoll-id-d751713988987e9331980363e24189ce.totalpoll-poll-container summary,#totalpoll-id-d751713988987e9331980363e24189ce.totalpoll-poll-container time,#totalpoll-id-d751713988987e9331980363e24189ce.totalpoll-poll-container video{border:0;outline:0;vertical-align:baseline;background-color:transparent;margin:0;padding:0}#totalpoll-id-d751713988987e9331980363e24189ce.totalpoll-poll-container body{line-height:1}#totalpoll-id-d751713988987e9331980363e24189ce.totalpoll-poll-container article,#totalpoll-id-d751713988987e9331980363e24189ce.totalpoll-poll-container aside,#totalpoll-id-d751713988987e9331980363e24189ce.totalpoll-poll-container dialog,#totalpoll-id-d751713988987e9331980363e24189ce.totalpoll-poll-container figure,#totalpoll-id-d751713988987e9331980363e24189ce.totalpoll-poll-container footer,#totalpoll-id-d751713988987e9331980363e24189ce.totalpoll-poll-container header,#totalpoll-id-d751713988987e9331980363e24189ce.totalpoll-poll-container hgroup,#totalpoll-id-d751713988987e9331980363e24189ce.totalpoll-poll-container nav,#totalpoll-id-d751713988987e9331980363e24189ce.totalpoll-poll-container section,#totalpoll-id-d751713988987e9331980363e24189ce.totalpoll-poll-container blockquote{display:block}#totalpoll-id-d751713988987e9331980363e24189ce.totalpoll-poll-container ul,#totalpoll-id-d751713988987e9331980363e24189ce.totalpoll-poll-container ol{list-style:none}#totalpoll-id-d751713988987e9331980363e24189ce.totalpoll-poll-container blockquote,#totalpoll-id-d751713988987e9331980363e24189ce.totalpoll-poll-container q{quotes:none}#totalpoll-id-d751713988987e9331980363e24189ce.totalpoll-poll-container blockquote:before,#totalpoll-id-d751713988987e9331980363e24189ce.totalpoll-poll-container blockquote:after,#totalpoll-id-d751713988987e9331980363e24189ce.totalpoll-poll-container q:before,#totalpoll-id-d751713988987e9331980363e24189ce.totalpoll-poll-container q:after{content:none}#totalpoll-id-d751713988987e9331980363e24189ce.totalpoll-poll-container ins{text-decoration:underline}#totalpoll-id-d751713988987e9331980363e24189ce.totalpoll-poll-container del{text-decoration:line-through}#totalpoll-id-d751713988987e9331980363e24189ce.totalpoll-poll-container mark{background:none}#totalpoll-id-d751713988987e9331980363e24189ce.totalpoll-poll-container abbr[title],#totalpoll-id-d751713988987e9331980363e24189ce.totalpoll-poll-container dfn[title]{border-bottom:1px dotted #000;cursor:help}#totalpoll-id-d751713988987e9331980363e24189ce.totalpoll-poll-container table{border-collapse:collapse;border-spacing:0}#totalpoll-id-d751713988987e9331980363e24189ce.totalpoll-poll-container hr{display:block;height:1px;border:0;border-top:1px solid #ccc;margin:1em 0;padding:0}#totalpoll-id-d751713988987e9331980363e24189ce.totalpoll-poll-container input[type=submit],#totalpoll-id-d751713988987e9331980363e24189ce.totalpoll-poll-container input[type=button],#totalpoll-id-d751713988987e9331980363e24189ce.totalpoll-poll-container button{margin:0;padding:0}#totalpoll-id-d751713988987e9331980363e24189ce.totalpoll-poll-container input,#totalpoll-id-d751713988987e9331980363e24189ce.totalpoll-poll-container select,#totalpoll-id-d751713988987e9331980363e24189ce.totalpoll-poll-container img{vertical-align:middle}#totalpoll-id-d751713988987e9331980363e24189ce.totalpoll-poll-container video,#totalpoll-id-d751713988987e9331980363e24189ce.totalpoll-poll-container audio{vertical-align:bottom}#totalpoll-id-d751713988987e9331980363e24189ce.totalpoll-poll-container img{max-width:100%}#totalpoll-id-d751713988987e9331980363e24189ce.totalpoll-poll-container li{list-style:none inside}#totalpoll-id-d751713988987e9331980363e24189ce.totalpoll-poll-container ul:before,#totalpoll-id-d751713988987e9331980363e24189ce.totalpoll-poll-container li:before,#totalpoll-id-d751713988987e9331980363e24189ce.totalpoll-poll-container ul:after,#totalpoll-id-d751713988987e9331980363e24189ce.totalpoll-poll-container li:after{display:none;content:""}#totalpoll-id-d751713988987e9331980363e24189ce.totalpoll-poll-container .totalpoll-error-message{padding:1em;margin-bottom:1em;color:#F44336;background-color:#FFFAFB;border:1px solid #F5BCC8;border-radius:0}#totalpoll-id-d751713988987e9331980363e24189ce.totalpoll-poll-container .totalpoll-question{text-align:center;font-weight:bold;font-size:1.25em;margin-bottom:1em;border:0;padding:0}#totalpoll-id-d751713988987e9331980363e24189ce.totalpoll-poll-container .totalpoll-choices{margin:0 -0.8em}#totalpoll-id-d751713988987e9331980363e24189ce.totalpoll-poll-container .totalpoll-choices-row{text-align:center;letter-spacing:-1em}#totalpoll-id-d751713988987e9331980363e24189ce.totalpoll-poll-container .totalpoll-choices-row *{letter-spacing:normal}#totalpoll-id-d751713988987e9331980363e24189ce.totalpoll-poll-container .totalpoll-choices-row .totalpoll-choice-container{padding:0.8em 0.8em;overflow:hidden;display:inline-block;vertical-align:top}#totalpoll-id-d751713988987e9331980363e24189ce.totalpoll-poll-container .totalpoll-choices-row .totalpoll-choice-container .totalpoll-choice{display:block}#totalpoll-id-d751713988987e9331980363e24189ce.totalpoll-poll-container .totalpoll-choices-row .totalpoll-choice-container .totalpoll-choice-text-type .totalpoll-choice-label{border-radius:0}#totalpoll-id-d751713988987e9331980363e24189ce.totalpoll-poll-container .totalpoll-choices-row .totalpoll-choice-container .totalpoll-choice .totalpoll-choice-checkbox{display:none}#totalpoll-id-d751713988987e9331980363e24189ce.totalpoll-poll-container .totalpoll-choices-row .totalpoll-choice-container .totalpoll-choice-media{border:1px solid #EAEAEA;position:relative;border-top-right-radius:0;border-top-left-radius:0}#totalpoll-id-d751713988987e9331980363e24189ce.totalpoll-poll-container .totalpoll-choices-row .totalpoll-choice-container .totalpoll-choice-media a{display:block;position:relative;background:#FFFFFF;border-top-right-radius:0;border-top-left-radius:0;pointer-events:none}#totalpoll-id-d751713988987e9331980363e24189ce.totalpoll-poll-container .totalpoll-choices-row .totalpoll-choice-container .totalpoll-choice-media a .totalpoll-choice-overlay{position:absolute;top:0;right:0;bottom:0;left:0;opacity:0;transition:opacity .25s ease-in-out;-webkit-transition:opacity .25s ease-in-out;-moz-transition:opacity .25s ease-in-out;-o-transition:opacity .25s ease-in-out;border-top-right-radius:0;border-top-left-radius:0}#totalpoll-id-d751713988987e9331980363e24189ce.totalpoll-poll-container .totalpoll-choices-row .totalpoll-choice-container .totalpoll-choice-media a .totalpoll-choice-overlay-image{background:url(https://memepedia.ru/wp-content/uploads/totalpoll/templates/media-contest/assets/images/magnify.png) rgba(0,0,0,0.5) no-repeat center;background-size:auto 30%}#totalpoll-id-d751713988987e9331980363e24189ce.totalpoll-poll-container .totalpoll-choices-row .totalpoll-choice-container .totalpoll-choice-media a .totalpoll-choice-overlay-video{background:url(https://memepedia.ru/wp-content/uploads/totalpoll/templates/media-contest/assets/images/play.png) rgba(0,0,0,0.5) no-repeat center;background-size:auto 30%}#totalpoll-id-d751713988987e9331980363e24189ce.totalpoll-poll-container .totalpoll-choices-row .totalpoll-choice-container .totalpoll-choice-media a .totalpoll-video-hidden-content{display:none}#totalpoll-id-d751713988987e9331980363e24189ce.totalpoll-poll-container .totalpoll-choices-row .totalpoll-choice-container .totalpoll-choice-media a:hover .totalpoll-choice-overlay{opacity:0.8}#totalpoll-id-d751713988987e9331980363e24189ce.totalpoll-poll-container .totalpoll-choices-row .totalpoll-choice-container .totalpoll-choice-media a img{max-width:100%;padding:0.8em;display:block;margin:0 auto;border-top-right-radius:0;border-top-left-radius:0}#totalpoll-id-d751713988987e9331980363e24189ce.totalpoll-poll-container .totalpoll-choices-row .totalpoll-choice-container .totalpoll-choice-media a.totalpoll-supports-full,#totalpoll-id-d751713988987e9331980363e24189ce.totalpoll-poll-container .totalpoll-choices-row .totalpoll-choice-container .totalpoll-choice-media a.totalpoll-display-video{pointer-events:auto}#totalpoll-id-d751713988987e9331980363e24189ce.totalpoll-poll-container .totalpoll-choices-row .totalpoll-choice-container .totalpoll-choice-media audio.totalpoll-audio-player{width:100%;padding:0 10px;margin:10px 0;opacity:0.65;transition:opacity 0.25s;-webkit-transition:opacity 0.25s;-moz-transition:opacity 0.25s;-o-transition:opacity 0.25s}#totalpoll-id-d751713988987e9331980363e24189ce.totalpoll-poll-container .totalpoll-choices-row .totalpoll-choice-container .totalpoll-choice-media audio.totalpoll-audio-player:hover{cursor:pointer}#totalpoll-id-d751713988987e9331980363e24189ce.totalpoll-poll-container .totalpoll-choices-row .totalpoll-choice-container .totalpoll-choice-label{padding:0.8em;border:1px solid #EAEAEA;margin-top:-1px;background:#EEEEEE;text-align:center;color:inherit;border-bottom-right-radius:0;border-bottom-left-radius:0;cursor:pointer;display:block}#totalpoll-id-d751713988987e9331980363e24189ce.totalpoll-poll-container .totalpoll-choices-row .totalpoll-choice-container .totalpoll-choice:hover audio.totalpoll-audio-player{opacity:1}#totalpoll-id-d751713988987e9331980363e24189ce.totalpoll-poll-container .totalpoll-choices-row .totalpoll-choice-container .totalpoll-choice.totalpoll-choice-selected .totalpoll-choice-media{border-color:#1A7FB9}#totalpoll-id-d751713988987e9331980363e24189ce.totalpoll-poll-container .totalpoll-choices-row .totalpoll-choice-container .totalpoll-choice.totalpoll-choice-selected .totalpoll-choice-label{color:#FFFFFF;background-color:#269EE3;border-color:#1A7FB9}#totalpoll-id-d751713988987e9331980363e24189ce.totalpoll-poll-container .totalpoll-choices-row .totalpoll-choice-container .totalpoll-choice.totalpoll-choice-selected:hover .totalpoll-choice-media{border-color:#1A7FB9}#totalpoll-id-d751713988987e9331980363e24189ce.totalpoll-poll-container .totalpoll-choices-row .totalpoll-choice-container .totalpoll-choice.totalpoll-choice-selected:hover .totalpoll-choice-label{color:#FFFFFF;background-color:#269EE3;border-color:#1A7FB9}#totalpoll-id-d751713988987e9331980363e24189ce.totalpoll-poll-container .totalpoll-view-vote .totalpoll-choice:hover{cursor:pointer}#totalpoll-id-d751713988987e9331980363e24189ce.totalpoll-poll-container .totalpoll-view-vote .totalpoll-choice:hover .totalpoll-choice-media{border-color:#DEDEDE}#totalpoll-id-d751713988987e9331980363e24189ce.totalpoll-poll-container .totalpoll-view-vote .totalpoll-choice:hover .totalpoll-choice-label{color:inherit;background-color:#E5E5E5;border-color:#DEDEDE}#totalpoll-id-d751713988987e9331980363e24189ce.totalpoll-poll-container .totalpoll-view-results .totalpoll-choice-text-type .totalpoll-choice-label{border-top-left-radius:0 !important;border-top-right-radius:0 !important}#totalpoll-id-d751713988987e9331980363e24189ce.totalpoll-poll-container .totalpoll-view-results .totalpoll-choice-media a{cursor:default}#totalpoll-id-d751713988987e9331980363e24189ce.totalpoll-poll-container .totalpoll-view-results .totalpoll-choice-media a .totalpoll-choice-overlay{cursor:pointer}#totalpoll-id-d751713988987e9331980363e24189ce.totalpoll-poll-container .totalpoll-view-results .totalpoll-choice-label{position:relative}#totalpoll-id-d751713988987e9331980363e24189ce.totalpoll-poll-container .totalpoll-view-results .totalpoll-choice-label .totalpoll-result-text{font-size:0.9em !important;font-weight:normal;color:#777777}#totalpoll-id-d751713988987e9331980363e24189ce.totalpoll-poll-container .totalpoll-view-results .totalpoll-choice-label .totalpoll-result-progress-container{position:absolute;left:0;top:0;right:0;height:5px;background:#EEEEEE;margin:0 -1px}#totalpoll-id-d751713988987e9331980363e24189ce.totalpoll-poll-container .totalpoll-view-results .totalpoll-choice-label .totalpoll-result-progress-container .totalpoll-result-progress{height:5px;background:#269EE3;background:-moz-linear-gradient(left,#269EE3 0%,#269EE3 100%);background:-webkit-gradient(linear,left top,right top,color-stop(0%,#269EE3),color-stop(100%,#269EE3));background:-webkit-linear-gradient(left,#269EE3 0%,#269EE3 100%);background:-o-linear-gradient(left,#269EE3 0%,#269EE3 100%);background:-ms-linear-gradient(left,#269EE3 0%,#269EE3 100%);background:linear-gradient(to right,#269EE3 0%,#269EE3 100%);filter:progid:DXImageTransform.Microsoft.gradient(startColorstr='#269EE3′,endColorstr='#269EE3′,GradientType=1);-webkit-animation-fill-mode:both;-moz-animation-fill-mode:both;-o-animation-fill-mode:both;animation-fill-mode:both;-webkit-transform-origin:left;-moz-transform-origin:left;-ms-transform-origin:left;-o-transform-origin:left;transform-origin:left;-webkit-animation:votes-bar 1000ms ease-out;-o-animation:votes-bar 1000ms ease-out;animation:votes-bar 1000ms ease-out}#totalpoll-id-d751713988987e9331980363e24189ce.totalpoll-poll-container .totalpoll-fields{margin:1em 0}#totalpoll-id-d751713988987e9331980363e24189ce.totalpoll-poll-container .totalpoll-fields .totalpoll-field-wrapper label{display:block;margin-bottom:1rem}#totalpoll-id-d751713988987e9331980363e24189ce.totalpoll-poll-container .totalpoll-fields .totalpoll-field-wrapper .totalpoll-fields-field{border-radius:0;margin-right:5px}#totalpoll-id-d751713988987e9331980363e24189ce.totalpoll-poll-container .totalpoll-fields .totalpoll-field-wrapper .totalpoll-field-error{margin:0.5em 0 1em;padding:0.8em;border:1px solid ;color:#F44336;border-radius:0}#totalpoll-id-d751713988987e9331980363e24189ce.totalpoll-poll-container .totalpoll-fields .totalpoll-field-wrapper+.totalpoll-field-wrapper{margin-top:1.5em}#totalpoll-id-d751713988987e9331980363e24189ce.totalpoll-poll-container .totalpoll-fields-field{width:100%}#totalpoll-id-d751713988987e9331980363e24189ce.totalpoll-poll-container .totalpoll-fields-field[type=checkbox],#totalpoll-id-d751713988987e9331980363e24189ce.totalpoll-poll-container .totalpoll-fields-field[type=radio]{width:auto}#totalpoll-id-d751713988987e9331980363e24189ce.totalpoll-poll-container .totalpoll-buttons{text-align:center;margin:1em -0.8em 0}#totalpoll-id-d751713988987e9331980363e24189ce.totalpoll-poll-container .totalpoll-buttons .totalpoll-button{display:inline-block;padding:0.8em;min-width:100px;font-weight:600;color:#676767;background:#EEEEEE;border:1px solid #EAEAEA;line-height:1;text-decoration:none;margin:0 10px;border-radius:0}@media all and (max-width:768px){#totalpoll-id-d751713988987e9331980363e24189ce.totalpoll-poll-container .totalpoll-buttons .totalpoll-button{width:100%;margin:10px 0}}#totalpoll-id-d751713988987e9331980363e24189ce.totalpoll-poll-container .totalpoll-buttons .totalpoll-button:hover,#totalpoll-id-d751713988987e9331980363e24189ce.totalpoll-poll-container .totalpoll-buttons .totalpoll-button:focus,#totalpoll-id-d751713988987e9331980363e24189ce.totalpoll-poll-container .totalpoll-buttons .totalpoll-button:active{color:#5A5A5A;background-color:#E5E5E5;border-color:#DEDEDE}#totalpoll-id-d751713988987e9331980363e24189ce.totalpoll-poll-container .totalpoll-buttons .totalpoll-button.totalpoll-button-primary{color:#FFFFFF;background-color:#269EE3;border:1px solid #1A7FB9}#totalpoll-id-d751713988987e9331980363e24189ce.totalpoll-poll-container .totalpoll-buttons .totalpoll-button.totalpoll-button-primary:hover,#totalpoll-id-d751713988987e9331980363e24189ce.totalpoll-poll-container .totalpoll-buttons .totalpoll-button.totalpoll-button-primary:focus,#totalpoll-id-d751713988987e9331980363e24189ce.totalpoll-poll-container .totalpoll-buttons .totalpoll-button.totalpoll-button-primary:active{background-color:#2090D0;border-color:#106BC5;color:#FFFFFF}#totalpoll-id-d751713988987e9331980363e24189ce.totalpoll-poll-container .totalpoll-buttons .totalpoll-button[disabled]{opacity:0.5;cursor:not-allowed}#totalpoll-id-d751713988987e9331980363e24189ce.totalpoll-poll-container .totalpoll-buttons .totalpoll-buttons-pagination{padding:1em;margin:0 0.8em 1em;border:1px solid #EAEAEA;border-radius:0}#totalpoll-id-d751713988987e9331980363e24189ce.totalpoll-poll-container .totalpoll-buttons .totalpoll-buttons-pagination:after{content:"";display:table;clear:both}@media all and (max-width:768px){#totalpoll-id-d751713988987e9331980363e24189ce.totalpoll-poll-container .totalpoll-choices .totalpoll-choice-container{width:100% !important}}#totalpoll-id-d751713988987e9331980363e24189ce.totalpoll-poll-container.totalpoll-rtl .totalpoll-view-results .totalpoll-choice-label .totalpoll-result-progress-container .totalpoll-result-progress{background:#269EE3;background:-moz-linear-gradient(right,#269EE3 0%,#269EE3 100%);background:-webkit-gradient(linear,right top,left top,color-stop(0%,#269EE3),color-stop(100%,#269EE3));background:-webkit-linear-gradient(right,#269EE3 0%,#269EE3 100%);background:-o-linear-gradient(right,#269EE3 0%,#269EE3 100%);background:-ms-linear-gradient(right,#269EE3 0%,#269EE3 100%);background:linear-gradient(to left,#269EE3 0%,#269EE3 100%);filter:progid:DXImageTransform.Microsoft.gradient(startColorstr='#269EE3′,endColorstr='#269EE3′,GradientType=1);-webkit-animation-fill-mode:both;-moz-animation-fill-mode:both;-o-animation-fill-mode:both;animation-fill-mode:both;-webkit-transform-origin:right;-moz-transform-origin:right;-ms-transform-origin:right;-o-transform-origin:right;transform-origin:right}#totalpoll-id-d751713988987e9331980363e24189ce.totalpoll-poll-container.totalpoll-rtl .totalpoll-fields .totalpoll-field-wrapper .totalpoll-fields-field{margin-right:0;margin-left:5px}