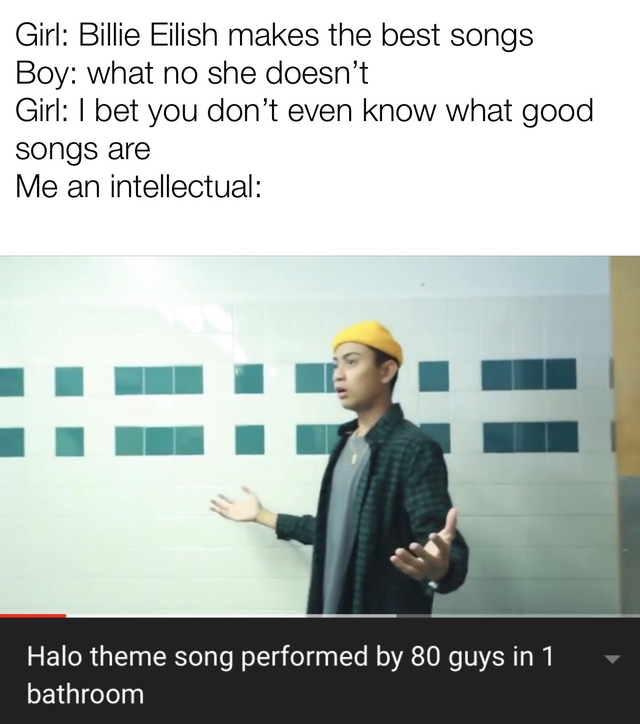 Songs Billy Iles so sad (Billie Eilish"s Songs Are So Sad) meme mocking the typical fans of the singer Billy Iles. Presented in the form of a dialogue between 14-year-old girl and more experienced man who really knows "what is sadness".
Origin
The meme makes fun of 14 year olds who listen to sad songs Billy Iles. Despite little experience, they supposedly already know everything about depression and sadness.
The first memes in this format appeared on Reddit in the first of November 2019. The meme presented in the form of a dialogue between a girl and a boy. The girl claims that the songs Ailish the coolest, although the boy did not agree with this. Then she said that guy doesn't know how sound of a good song. In response, the boy knocks the screenshot of the viral video, where 80 guys sing in the bathroom the soundtrack of Halo.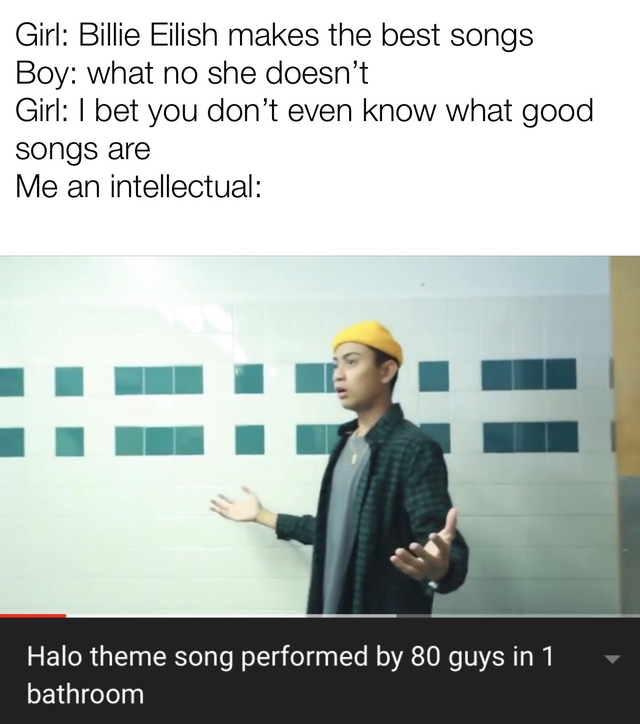 Over time, the meme has changed. And the dialogue between the guy and the girl being on the subject of sad songs and depression in General.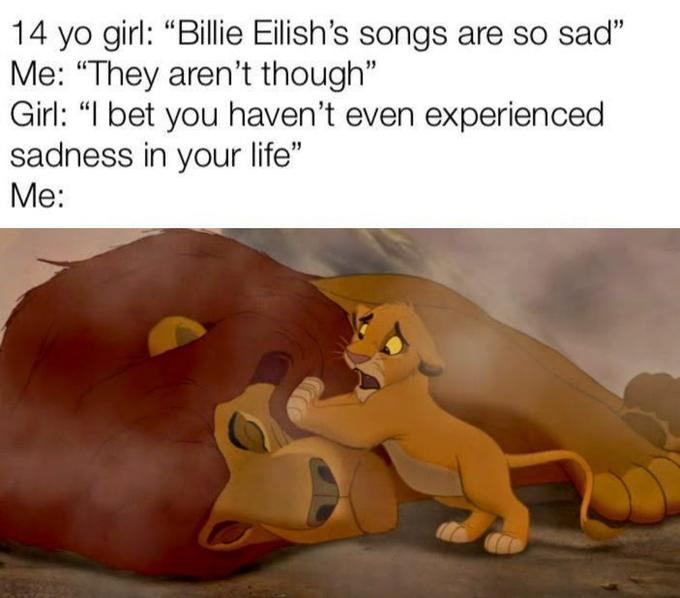 14-year-old girl: Songs Billy Iles so sad.
Me: Actually, no.
Girl: You probably don't even know what real sadness.
I:
From November 5 to users defined with a regular pattern and started to do different options. Usually they differs only in last picture. It depicts a sad moment from the film, game or cartoon (for example the death scene of Mufasa).
In Runet this meme became popular on 7-8 November. But the Russian users instead of sad pictures began to post screenshots of the audio player "Vkontakte". There is, of course, played only sad and old songs such as "do you Know" singer Maksim.
The value
Meme about the songs Billy Ilis makes fun of the typical audience of the singer. It is teenage girls who think he did not know sadness and depression. But they argue the more experienced people, who in response send really depressing content.
See also
Gallery