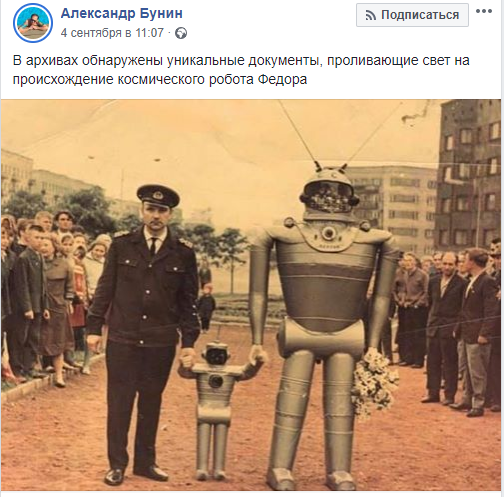 Robot Fedor (Skybot F-850, Fedor) — a series of memes about the Russian robot sent to ISS. At first Fedor was not able to dock to the station, then the astronauts could not turn it on and was about to beat with a hammer. All this triggered a stream of jokes and memes about the harsh Russian technology that does not work very well.
Origin
NGO «Android technology» and the Foundation for advanced studies began to develop Android rescue by the order of EMERCOM in 2014. In 2015, a prototype robot was presented to President Vladimir Putin.
In 2016, Deputy Prime Minister Dmitry Rogozin announced that the rescue robot, will fly into space. It was named after FEDOR — Final Experimental Demonstration Object Research (Final Demonstration Pilot Facility Studies).
In July 2019 Fedor had his own Twitter account @FEDOR37516789. 22 Aug 2019 he went on the ship «Soyuz MS-14», but due to technical problems was unable to dock immediately. The docking occurred on August 27. September 7, Fedor returned to Earth.
The value
Russian state media wrote a lot about Fedor, that watched him and the network users. Every failure of the robot has acquired a huge number of jokes. Mostly Russians draw attention to the fact that the statements of the authorities on the development of domestic technologies do not correspond to reality. Since the robot is Fedor became a meme.
See also
Gallery