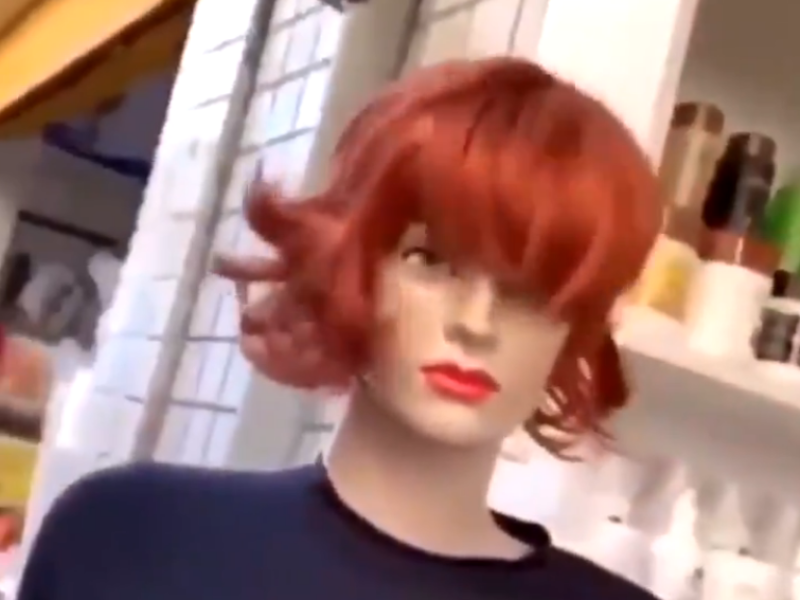 Shaking the mannequin (Mannequin Shaking) — video with a female dummy in a red wig, which shakes the song SOPHIE "Not Okay (Alone Mix)". Meme shows irritation, anger in different situations.
Origin
16 Sep 2019 Twitter user @muriolirum posted a video with shaky dummy the song SOPHIE "Not Okay (Alone Mix)". In three days the video gathered 2 million views and 8 thousand likes.
— muri (@muriolirum) September 16, 2019
Other Twitter users began to spread this video and come up with their own versions of the situations with which they associate the shaking of the mannequin.
Middle age white women when an employee working for minimum wage tells them their coupon"s expired pic.twitter.com/ucXFm2K2Yh

— Jonathan Jacobo (@Colin_Field_) September 16, 2019
White women of middle age, when the employee is working for minimum wage, reports that the validity of their coupon has expired
The value
Shaking the mannequin meme about the situations in which a person experiences extreme irritation when you already shaking. It can also Express anger that a person can not hide, but still can keep. Or anxiety, when a person trembles from fear or nerves.
See also
Gallery
When the long meeting is over and someone says "I just have one more question" pic.twitter.com/0o6v6Wq59w

— Niccole Thurman (@niccolethurman) September 18, 2019
When the long negotiations ended and someone says, "I Have one more question"
mannequin shaking vibrating short hair red wig sophie music playing bass blasting bumping pissed angry mad store white doll pic.twitter.com/8yQikfo9Fe

— reaction videos (@findurmeme) September 18, 2019
The mannequin shakes, vibrates, short hair, red wig, the music plays Sophie, the impact of the bass, drunk, evil, insane, crazy, shop-a white doll
Me: I'm gonna have a nice calm, anxiety-free day.

Me after 4 black coffees: pic.twitter.com/r9q3fIEk4y

— Ben Yahr (@benyahr) September 16, 2019
Me: I Have calm, nice day without worries
I after four cups of black coffee
my apps before i delete them pic.twitter.com/A8vcoU9jFI

— em (@emilyxhipp) September 17, 2019
Application before I am going to remove them
Mr. Krabs: where in the high seas is Squidward?!?

Spongebob: you gave him the day off.

Mr. Krabs:

— Peter Marshall (@PeterJMarshall) September 18, 2019
Mr. Krabs: Squidward, Where a thousand seas?!
The SpongeBob: You gave him the day off.
Mr. Krabs:
*everyone on Twitter clogging up your timeline with that video of the shaking red-haired mannequin*

You: pic.twitter.com/xvdAc30M17

— Elias Jahshan | الياس جهشان (@Elias_Jahshan) September 17, 2019
Everyone on Twitter has filled your ribbon this video with the shaking red haired girl
You:
Me: Hey, is this decaf?
Barista: err… yeah, I think so?

[Me 20 minutes later] pic.twitter.com/gEJk9iMBIF

— Jamie (@justbalmy) September 17, 2019
Me: Hey, is that decaf?
Barista: Uh, I think so.
I in 20 minutes