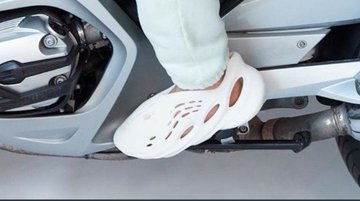 The rapper and designer Kanye West has released a new footwear, your brand Yeezy. Sneakers Yeezy Foam Runner laugh network users, they say it's even more ugly version of crocs.
Running shoes for the first time noticed the daughter of rapper North West in June 2019. In September, Yeezy Foam Runner appeared in the lookbook of the brand.
Netizens made fun of the shoes, called it ridiculous and compared them to crocs, alleging that West and his team have not invented anything new.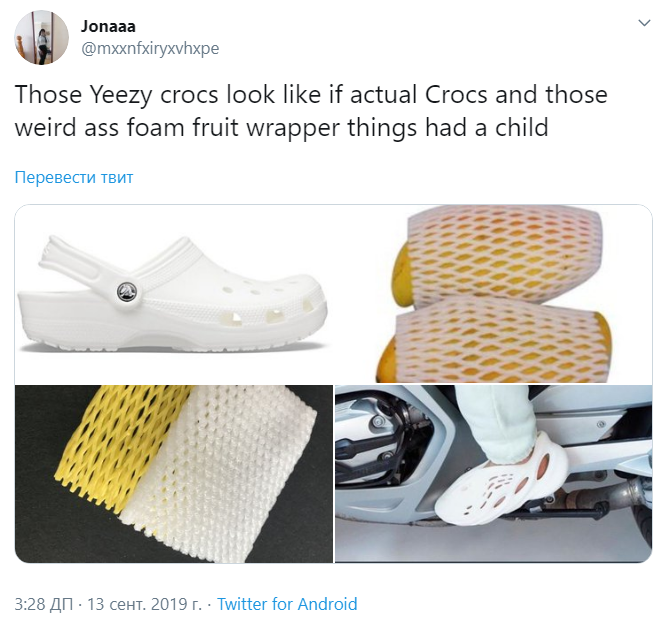 These Yeezy-crocs look like if real crocs and those weird foam packaging for fruits had a child
These are severely more hideous than crocs. Holy hell. pic.twitter.com/py90fjpYDW

— Karma Brewing (@KarmaBrewing) September 13, 2019
Can't wait to go to their usual crocs for $19.99 and laugh at those who will wear Yeezy-crocs for $399,99.
They even grosser than crocs. What the hell.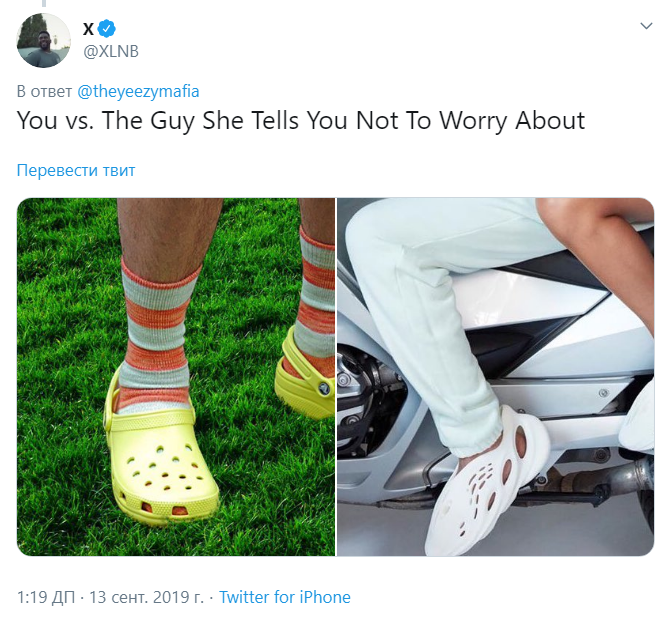 You vs. guy, about which she said not to worry
Sneakers by Kanye West is often a cause of jokes in the network. His wife Kim Kardashian chose a very strange pose for photos to promote Yeezy Butter 350. It turned into a meme "Are like butter".
@-webkit-keyframes votes-bar{from{-webkit-transform:scaleX(0);-moz-transform:scaleX(0);-ms-transform:scaleX(0);-o-transform:scaleX(0);transform:scaleX(0)}to{-webkit-transform:scaleX(1);-moz-transform:scaleX(1);-ms-transform:scaleX(1);-o-transform:scaleX(1);transform:scaleX(1)}}@-moz-keyframes votes-bar{from{-webkit-transform:scaleX(0);-moz-transform:scaleX(0);-ms-transform:scaleX(0);-o-transform:scaleX(0);transform:scaleX(0)}to{-webkit-transform:scaleX(1);-moz-transform:scaleX(1);-ms-transform:scaleX(1);-o-transform:scaleX(1);transform:scaleX(1)}}@-ms-keyframes votes-bar{from{-webkit-transform:scaleX(0);-moz-transform:scaleX(0);-ms-transform:scaleX(0);-o-transform:scaleX(0);transform:scaleX(0)}to{-webkit-transform:scaleX(1);-moz-transform:scaleX(1);-ms-transform:scaleX(1);-o-transform:scaleX(1);transform:scaleX(1)}}@keyframes votes-bar{from{-webkit-transform:scaleX(0);-moz-transform:scaleX(0);-ms-transform:scaleX(0);-o-transform:scaleX(0);transform:scaleX(0)}to{-webkit-transform:scaleX(1);-moz-transform:scaleX(1);-ms-transform:scaleX(1);-o-transform:scaleX(1);transform:scaleX(1)}}@-webkit-keyframes choices-text{from{opacity:0;-ms-filter:"progid:DXImageTransform.Microsoft.Alpha(Opacity=0)"}to{opacity:1;-ms-filter:"progid:DXImageTransform.Microsoft.Alpha(Opacity=100)"}}@-moz-keyframes choices-text{from{opacity:0;-ms-filter:"progid:DXImageTransform.Microsoft.Alpha(Opacity=0)"}to{opacity:1;-ms-filter:"progid:DXImageTransform.Microsoft.Alpha(Opacity=100)"}}@-ms-keyframes choices-text{from{opacity:0;-ms-filter:"progid:DXImageTransform.Microsoft.Alpha(Opacity=0)"}to{opacity:1;-ms-filter:"progid:DXImageTransform.Microsoft.Alpha(Opacity=100)"}}@keyframes choices-text{from{opacity:0;-ms-filter:"progid:DXImageTransform.Microsoft.Alpha(Opacity=0)"}to{opacity:1;-ms-filter:"progid:DXImageTransform.Microsoft.Alpha(Opacity=100)"}}#totalpoll-id-d751713988987e9331980363e24189ce.totalpoll-poll-container{line-height:1.5;font-family:inherit;font-size:14px}#totalpoll-id-d751713988987e9331980363e24189ce.totalpoll-poll-container
*{box-sizing:border-box;-webkit-box-sizing:border-box;-moz-box-sizing:border-box;-o-box-sizing:border-box;line-height:inherit;font-family:inherit;font-size:inherit}#totalpoll-id-d751713988987e9331980363e24189ce.totalpoll-poll-container div,#totalpoll-id-d751713988987e9331980363e24189ce.totalpoll-poll-container span,#totalpoll-id-d751713988987e9331980363e24189ce.totalpoll-poll-container applet,#totalpoll-id-d751713988987e9331980363e24189ce.totalpoll-poll-container object,#totalpoll-id-d751713988987e9331980363e24189ce.totalpoll-poll-container iframe,#totalpoll-id-d751713988987e9331980363e24189ce.totalpoll-poll-container h1,#totalpoll-id-d751713988987e9331980363e24189ce.totalpoll-poll-container h2,#totalpoll-id-d751713988987e9331980363e24189ce.totalpoll-poll-container h3,#totalpoll-id-d751713988987e9331980363e24189ce.totalpoll-poll-container h4,#totalpoll-id-d751713988987e9331980363e24189ce.totalpoll-poll-container h5,#totalpoll-id-d751713988987e9331980363e24189ce.totalpoll-poll-container h6,#totalpoll-id-d751713988987e9331980363e24189ce.totalpoll-poll-container p,#totalpoll-id-d751713988987e9331980363e24189ce.totalpoll-poll-container blockquote,#totalpoll-id-d751713988987e9331980363e24189ce.totalpoll-poll-container pre,#totalpoll-id-d751713988987e9331980363e24189ce.totalpoll-poll-container a,#totalpoll-id-d751713988987e9331980363e24189ce.totalpoll-poll-container abbr,#totalpoll-id-d751713988987e9331980363e24189ce.totalpoll-poll-container acronym,#totalpoll-id-d751713988987e9331980363e24189ce.totalpoll-poll-container address,#totalpoll-id-d751713988987e9331980363e24189ce.totalpoll-poll-container big,#totalpoll-id-d751713988987e9331980363e24189ce.totalpoll-poll-container cite,#totalpoll-id-d751713988987e9331980363e24189ce.totalpoll-poll-container code,#totalpoll-id-d751713988987e9331980363e24189ce.totalpoll-poll-container del,#totalpoll-id-d751713988987e9331980363e24189ce.totalpoll-poll-container dfn,#totalpoll-id-d751713988987e9331980363e24189ce.totalpoll-poll-container em,#totalpoll-id-d751713988987e9331980363e24189ce.totalpoll-poll-container font,#totalpoll-id-d751713988987e9331980363e24189ce.totalpoll-poll-container img,#totalpoll-id-d751713988987e9331980363e24189ce.totalpoll-poll-container ins,#totalpoll-id-d751713988987e9331980363e24189ce.totalpoll-poll-container kbd,#totalpoll-id-d751713988987e9331980363e24189ce.totalpoll-poll-container q,#totalpoll-id-d751713988987e9331980363e24189ce.totalpoll-poll-container s,#totalpoll-id-d751713988987e9331980363e24189ce.totalpoll-poll-container samp,#totalpoll-id-d751713988987e9331980363e24189ce.totalpoll-poll-container small,#totalpoll-id-d751713988987e9331980363e24189ce.totalpoll-poll-container strike,#totalpoll-id-d751713988987e9331980363e24189ce.totalpoll-poll-container strong,#totalpoll-id-d751713988987e9331980363e24189ce.totalpoll-poll-container sub,#totalpoll-id-d751713988987e9331980363e24189ce.totalpoll-poll-container sup,#totalpoll-id-d751713988987e9331980363e24189ce.totalpoll-poll-container tt,#totalpoll-id-d751713988987e9331980363e24189ce.totalpoll-poll-container var,#totalpoll-id-d751713988987e9331980363e24189ce.totalpoll-poll-container b,#totalpoll-id-d751713988987e9331980363e24189ce.totalpoll-poll-container i,#totalpoll-id-d751713988987e9331980363e24189ce.totalpoll-poll-container center,#totalpoll-id-d751713988987e9331980363e24189ce.totalpoll-poll-container dl,#totalpoll-id-d751713988987e9331980363e24189ce.totalpoll-poll-container dt,#totalpoll-id-d751713988987e9331980363e24189ce.totalpoll-poll-container dd,#totalpoll-id-d751713988987e9331980363e24189ce.totalpoll-poll-container ol,#totalpoll-id-d751713988987e9331980363e24189ce.totalpoll-poll-container ul,#totalpoll-id-d751713988987e9331980363e24189ce.totalpoll-poll-container li,#totalpoll-id-d751713988987e9331980363e24189ce.totalpoll-poll-container fieldset,#totalpoll-id-d751713988987e9331980363e24189ce.totalpoll-poll-container form,#totalpoll-id-d751713988987e9331980363e24189ce.totalpoll-poll-container label,#totalpoll-id-d751713988987e9331980363e24189ce.totalpoll-poll-container legend,#totalpoll-id-d751713988987e9331980363e24189ce.totalpoll-poll-container table,#totalpoll-id-d751713988987e9331980363e24189ce.totalpoll-poll-container caption,#totalpoll-id-d751713988987e9331980363e24189ce.totalpoll-poll-container tbody,#totalpoll-id-d751713988987e9331980363e24189ce.totalpoll-poll-container tfoot,#totalpoll-id-d751713988987e9331980363e24189ce.totalpoll-poll-container thead,#totalpoll-id-d751713988987e9331980363e24189ce.totalpoll-poll-container tr,#totalpoll-id-d751713988987e9331980363e24189ce.totalpoll-poll-container th,#totalpoll-id-d751713988987e9331980363e24189ce.totalpoll-poll-container td,#totalpoll-id-d751713988987e9331980363e24189ce.totalpoll-poll-container article,#totalpoll-id-d751713988987e9331980363e24189ce.totalpoll-poll-container aside,#totalpoll-id-d751713988987e9331980363e24189ce.totalpoll-poll-container audio,#totalpoll-id-d751713988987e9331980363e24189ce.totalpoll-poll-container canvas,#totalpoll-id-d751713988987e9331980363e24189ce.totalpoll-poll-container details,#totalpoll-id-d751713988987e9331980363e24189ce.totalpoll-poll-container figcaption,#totalpoll-id-d751713988987e9331980363e24189ce.totalpoll-poll-container figure,#totalpoll-id-d751713988987e9331980363e24189ce.totalpoll-poll-container footer,#totalpoll-id-d751713988987e9331980363e24189ce.totalpoll-poll-container header,#totalpoll-id-d751713988987e9331980363e24189ce.totalpoll-poll-container hgroup,#totalpoll-id-d751713988987e9331980363e24189ce.totalpoll-poll-container mark,#totalpoll-id-d751713988987e9331980363e24189ce.totalpoll-poll-container menu,#totalpoll-id-d751713988987e9331980363e24189ce.totalpoll-poll-container meter,#totalpoll-id-d751713988987e9331980363e24189ce.totalpoll-poll-container nav,#totalpoll-id-d751713988987e9331980363e24189ce.totalpoll-poll-container output,#totalpoll-id-d751713988987e9331980363e24189ce.totalpoll-poll-container progress,#totalpoll-id-d751713988987e9331980363e24189ce.totalpoll-poll-container section,#totalpoll-id-d751713988987e9331980363e24189ce.totalpoll-poll-container summary,#totalpoll-id-d751713988987e9331980363e24189ce.totalpoll-poll-container time,#totalpoll-id-d751713988987e9331980363e24189ce.totalpoll-poll-container
video{border:0;outline:0;vertical-align:baseline;background-color:transparent;margin:0;padding:0}#totalpoll-id-d751713988987e9331980363e24189ce.totalpoll-poll-container
body{line-height:1}#totalpoll-id-d751713988987e9331980363e24189ce.totalpoll-poll-container article,#totalpoll-id-d751713988987e9331980363e24189ce.totalpoll-poll-container aside,#totalpoll-id-d751713988987e9331980363e24189ce.totalpoll-poll-container dialog,#totalpoll-id-d751713988987e9331980363e24189ce.totalpoll-poll-container figure,#totalpoll-id-d751713988987e9331980363e24189ce.totalpoll-poll-container footer,#totalpoll-id-d751713988987e9331980363e24189ce.totalpoll-poll-container header,#totalpoll-id-d751713988987e9331980363e24189ce.totalpoll-poll-container hgroup,#totalpoll-id-d751713988987e9331980363e24189ce.totalpoll-poll-container nav,#totalpoll-id-d751713988987e9331980363e24189ce.totalpoll-poll-container section,#totalpoll-id-d751713988987e9331980363e24189ce.totalpoll-poll-container
blockquote{display:block}#totalpoll-id-d751713988987e9331980363e24189ce.totalpoll-poll-container ul,#totalpoll-id-d751713988987e9331980363e24189ce.totalpoll-poll-container
ol{list-style:none}#totalpoll-id-d751713988987e9331980363e24189ce.totalpoll-poll-container blockquote,#totalpoll-id-d751713988987e9331980363e24189ce.totalpoll-poll-container
q{quotes:none}#totalpoll-id-d751713988987e9331980363e24189ce.totalpoll-poll-container blockquote:before,#totalpoll-id-d751713988987e9331980363e24189ce.totalpoll-poll-container blockquote:after,#totalpoll-id-d751713988987e9331980363e24189ce.totalpoll-poll-container q:before,#totalpoll-id-d751713988987e9331980363e24189ce.totalpoll-poll-container q:after{content:none}#totalpoll-id-d751713988987e9331980363e24189ce.totalpoll-poll-container
ins{text-decoration:underline}#totalpoll-id-d751713988987e9331980363e24189ce.totalpoll-poll-container
del{text-decoration:line-through}#totalpoll-id-d751713988987e9331980363e24189ce.totalpoll-poll-container
mark{background:none}#totalpoll-id-d751713988987e9331980363e24189ce.totalpoll-poll-container abbr[title],#totalpoll-id-d751713988987e9331980363e24189ce.totalpoll-poll-container dfn[title]{border-bottom:1px dotted #000;cursor:help}#totalpoll-id-d751713988987e9331980363e24189ce.totalpoll-poll-container
table{border-collapse:collapse;border-spacing:0}#totalpoll-id-d751713988987e9331980363e24189ce.totalpoll-poll-container
hr{display:block;height:1px;border:0;border-top:1px solid #ccc;margin:1em
0;padding:0}#totalpoll-id-d751713988987e9331980363e24189ce.totalpoll-poll-container input[type=submit],#totalpoll-id-d751713988987e9331980363e24189ce.totalpoll-poll-container input[type=button],#totalpoll-id-d751713988987e9331980363e24189ce.totalpoll-poll-container
button{margin:0;padding:0}#totalpoll-id-d751713988987e9331980363e24189ce.totalpoll-poll-container input,#totalpoll-id-d751713988987e9331980363e24189ce.totalpoll-poll-container select,#totalpoll-id-d751713988987e9331980363e24189ce.totalpoll-poll-container
img{vertical-align:middle}#totalpoll-id-d751713988987e9331980363e24189ce.totalpoll-poll-container video,#totalpoll-id-d751713988987e9331980363e24189ce.totalpoll-poll-container
audio{vertical-align:bottom}#totalpoll-id-d751713988987e9331980363e24189ce.totalpoll-poll-container
img{max-width:100%}#totalpoll-id-d751713988987e9331980363e24189ce.totalpoll-poll-container
li{list-style:none inside}#totalpoll-id-d751713988987e9331980363e24189ce.totalpoll-poll-container ul:before,#totalpoll-id-d751713988987e9331980363e24189ce.totalpoll-poll-container li:before,#totalpoll-id-d751713988987e9331980363e24189ce.totalpoll-poll-container ul:after,#totalpoll-id-d751713988987e9331980363e24189ce.totalpoll-poll-container li:after{display:none;content:""}#totalpoll-id-d751713988987e9331980363e24189ce.totalpoll-poll-container .totalpoll-error-message{padding:1em;margin-bottom:1em;color:#F44336;background-color:#FFFAFB;border:1px
solid #F5BCC8}#totalpoll-id-d751713988987e9331980363e24189ce.totalpoll-poll-container .totalpoll-question{font-weight:bold;font-size:1.5em;text-align:center;margin-bottom:2em;border:0;padding:0}#totalpoll-id-d751713988987e9331980363e24189ce.totalpoll-poll-container .totalpoll-choices{margin:2em
auto;display:table;width:100%}#totalpoll-id-d751713988987e9331980363e24189ce.totalpoll-poll-container .totalpoll-choices:after{content:"";display:table;clear:both}#totalpoll-id-d751713988987e9331980363e24189ce.totalpoll-poll-container .totalpoll-choices .totalpoll-choice{display:table-cell;vertical-align:middle;width:50%;height:4em}@media all and (max-width:480px){#totalpoll-id-d751713988987e9331980363e24189ce.totalpoll-poll-container .totalpoll-choices .totalpoll-choice{display:block;margin:1em
0;width:100%}}#totalpoll-id-d751713988987e9331980363e24189ce.totalpoll-poll-container .totalpoll-choices .totalpoll-choice .totalpoll-choice-container{background:#EEE;color:#000;display:block;height:100%;position:relative}#totalpoll-id-d751713988987e9331980363e24189ce.totalpoll-poll-container .totalpoll-choices .totalpoll-choice .totalpoll-choice-container:after{content:";height:0;width:0;position:absolute;top:0;border-top:2em solid transparent;border-bottom:2em solid transparent}#totalpoll-id-d751713988987e9331980363e24189ce.totalpoll-poll-container .totalpoll-choices .totalpoll-choice .totalpoll-choice-container .totalpoll-choice-content{display:table;height:100%;width:100%}#totalpoll-id-d751713988987e9331980363e24189ce.totalpoll-poll-container .totalpoll-choices .totalpoll-choice .totalpoll-choice-container .totalpoll-choice-content .totalpoll-choice-label{display:table-cell;vertical-align:middle;text-align:center;padding:0
0.5em;line-height:1.5;font-size:1.1em;text-shadow:1px 1px rgba(0,0,0,0)}#totalpoll-id-d751713988987e9331980363e24189ce.totalpoll-poll-container .totalpoll-view-vote .totalpoll-choice-container{cursor:pointer}#totalpoll-id-d751713988987e9331980363e24189ce.totalpoll-poll-container .totalpoll-view-vote .totalpoll-choices .totalpoll-choice .totalpoll-choice-checkbox-container{display:none}#totalpoll-id-d751713988987e9331980363e24189ce.totalpoll-poll-container .totalpoll-view-vote .totalpoll-choices .totalpoll-choice .totalpoll-choice-container:hover{background:#DDD}#totalpoll-id-d751713988987e9331980363e24189ce.totalpoll-poll-container .totalpoll-view-vote .totalpoll-choices .totalpoll-choice-first .totalpoll-choice-container{margin-left:2em;margin-right:0.5em;border-top-right-radius:4px;border-bottom-right-radius:4px}#totalpoll-id-d751713988987e9331980363e24189ce.totalpoll-poll-container .totalpoll-view-vote .totalpoll-choices .totalpoll-choice-first .totalpoll-choice-container:after{left:-2em;border-right:2em solid #EEE}#totalpoll-id-d751713988987e9331980363e24189ce.totalpoll-poll-container .totalpoll-view-vote .totalpoll-choices .totalpoll-choice-first .totalpoll-choice-container:hover:after{border-right-color:#DDD}#totalpoll-id-d751713988987e9331980363e24189ce.totalpoll-poll-container .totalpoll-view-vote .totalpoll-choices .totalpoll-choice-second .totalpoll-choice-container{margin-right:2em;margin-left:0.5em;border-top-left-radius:4px;border-bottom-left-radius:4px}#totalpoll-id-d751713988987e9331980363e24189ce.totalpoll-poll-container .totalpoll-view-vote .totalpoll-choices .totalpoll-choice-second .totalpoll-choice-container:after{right:-2em;border-left:2em solid #EEE}#totalpoll-id-d751713988987e9331980363e24189ce.totalpoll-poll-container .totalpoll-view-vote .totalpoll-choices .totalpoll-choice-second .totalpoll-choice-container:hover:after{border-left-color:#DDD}#totalpoll-id-d751713988987e9331980363e24189ce.totalpoll-poll-container .totalpoll-view-vote .totalpoll-choices .totalpoll-choice.checked .totalpoll-choice-container{background:#2196F3;color:#FFF}#totalpoll-id-d751713988987e9331980363e24189ce.totalpoll-poll-container .totalpoll-view-vote .totalpoll-choices .totalpoll-choice.checked:first-child .totalpoll-choice-container:after{border-right-color:#2196F3}#totalpoll-id-d751713988987e9331980363e24189ce.totalpoll-poll-container .totalpoll-view-vote .totalpoll-choices .totalpoll-choice.checked:last-child .totalpoll-choice-container:after{border-left-color:#2196F3}#totalpoll-id-d751713988987e9331980363e24189ce.totalpoll-poll-container .totalpoll-view-results .totalpoll-choices .totalpoll-choice{position:relative}@media all and (max-width:480px){#totalpoll-id-d751713988987e9331980363e24189ce.totalpoll-poll-container .totalpoll-view-results .totalpoll-choices .totalpoll-choice{width:100% !important}}#totalpoll-id-d751713988987e9331980363e24189ce.totalpoll-poll-container .totalpoll-view-results .totalpoll-choices .totalpoll-choice-first .totalpoll-choice-container{background:#E14F00;color:#FFF;border-top-left-radius:4px;border-bottom-left-radius:4px;-webkit-transform-origin:left;-moz-transform-origin:left;-ms-transform-origin:left;-o-transform-origin:left;transform-origin:left}#totalpoll-id-d751713988987e9331980363e24189ce.totalpoll-poll-container .totalpoll-view-results .totalpoll-choices .totalpoll-choice-first .totalpoll-choice-container .totalpoll-choice-label{text-shadow:1px 1px rgba(0,0,0,0)}@media all and (max-width:480px){#totalpoll-id-d751713988987e9331980363e24189ce.totalpoll-poll-container .totalpoll-view-results .totalpoll-choices .totalpoll-choice-first .totalpoll-choice-container{margin-right:2em}}#totalpoll-id-d751713988987e9331980363e24189ce.totalpoll-poll-container .totalpoll-view-results .totalpoll-choices .totalpoll-choice-first .totalpoll-choice-container:after{right:-2em;border-left:2em solid #E14F00}#totalpoll-id-d751713988987e9331980363e24189ce.totalpoll-poll-container .totalpoll-view-results .totalpoll-choices .totalpoll-choice-second .totalpoll-choice-container{background:#E14F00;color:#FFF;border-top-right-radius:4px;border-bottom-right-radius:4px;-webkit-transform-origin:right;-moz-transform-origin:right;-ms-transform-origin:right;-o-transform-origin:right;transform-origin:right}#totalpoll-id-d751713988987e9331980363e24189ce.totalpoll-poll-container .totalpoll-view-results .totalpoll-choices .totalpoll-choice-second .totalpoll-choice-container .totalpoll-choice-label{text-shadow:1px 1px rgba(0,0,0,0)}@media all and (max-width:480px){#totalpoll-id-d751713988987e9331980363e24189ce.totalpoll-poll-container .totalpoll-view-results .totalpoll-choices .totalpoll-choice-second .totalpoll-choice-container{margin-left:2em}}#totalpoll-id-d751713988987e9331980363e24189ce.totalpoll-poll-container .totalpoll-view-results .totalpoll-choices .totalpoll-choice-second .totalpoll-choice-container:after{left:-2em;border-right:2em solid #E14F00}#totalpoll-id-d751713988987e9331980363e24189ce.totalpoll-poll-container .totalpoll-view-results .totalpoll-choices .totalpoll-choice .totalpoll-choice-container{-webkit-animation-fill-mode:both;-moz-animation-fill-mode:both;-o-animation-fill-mode:both;animation-fill-mode:both;-webkit-animation:votes-bar 1000ms ease-out;-moz-animation:votes-bar 1000ms ease-out;-o-animation:votes-bar 1000ms ease-out;animation:votes-bar 1000ms ease-out}#totalpoll-id-d751713988987e9331980363e24189ce.totalpoll-poll-container .totalpoll-view-results .totalpoll-choices .totalpoll-choice .totalpoll-choice-container .totalpoll-choice-label{opacity:0;-ms-filter:"progid:DXImageTransform.Microsoft.Alpha(Opacity=0)";-webkit-animation:choices-text 200ms ease-out 300ms;-moz-animation:choices-text 200ms ease-out 300ms;-o-animation:choices-text 200ms ease-out 300ms;animation:choices-text 200ms ease-out 300ms;-webkit-animation-fill-mode:forwards;-moz-animation-fill-mode:forwards;-o-animation-fill-mode:forwards;animation-fill-mode:forwards}#totalpoll-id-d751713988987e9331980363e24189ce.totalpoll-poll-container .totalpoll-view-results .totalpoll-choices .totalpoll-choice .totalpoll-choice-container .totalpoll-choice-votes{font-size:0.8em}#totalpoll-id-d751713988987e9331980363e24189ce.totalpoll-poll-container .totalpoll-view-results .totalpoll-choices .totalpoll-choice.checked .totalpoll-choice-container{background:#2196F3;color:#FFF}#totalpoll-id-d751713988987e9331980363e24189ce.totalpoll-poll-container .totalpoll-view-results .totalpoll-choices .totalpoll-choice.checked .totalpoll-choice-container .totalpoll-choice-label{text-shadow:1px 1px rgba(0,0,0,0)}#totalpoll-id-d751713988987e9331980363e24189ce.totalpoll-poll-container .totalpoll-view-results .totalpoll-choices .totalpoll-choice.checked:first-child .totalpoll-choice-container:after{border-left-color:#2196F3}#totalpoll-id-d751713988987e9331980363e24189ce.totalpoll-poll-container .totalpoll-view-results .totalpoll-choices .totalpoll-choice.checked:last-child .totalpoll-choice-container:after{border-right-color:#2196F3}#totalpoll-id-d751713988987e9331980363e24189ce.totalpoll-poll-container .totalpoll-fields .totalpoll-field-wrapper
label{display:block;margin-bottom:1rem}#totalpoll-id-d751713988987e9331980363e24189ce.totalpoll-poll-container .totalpoll-fields .totalpoll-field-wrapper .totalpoll-fields-field{border-radius:4px}#totalpoll-id-d751713988987e9331980363e24189ce.totalpoll-poll-container .totalpoll-fields .totalpoll-field-wrapper .totalpoll-field-error{margin-top:1em;margin-bottom:1em;padding-bottom:1em;border-bottom:1px solid #DDD;color:#F44336;border-radius:4px}#totalpoll-id-d751713988987e9331980363e24189ce.totalpoll-poll-container .totalpoll-fields .totalpoll-field-wrapper+.totalpoll-field-wrapper{margin-top:1.5em}#totalpoll-id-d751713988987e9331980363e24189ce.totalpoll-poll-container .totalpoll-fields-field{width:100%}#totalpoll-id-d751713988987e9331980363e24189ce.totalpoll-poll-container .totalpoll-fields-field[type=checkbox],#totalpoll-id-d751713988987e9331980363e24189ce.totalpoll-poll-container .totalpoll-fields-field[type=radio]{width:auto;margin-right:0.5em}#totalpoll-id-d751713988987e9331980363e24189ce.totalpoll-poll-container .totalpoll-buttons{text-align:center}#totalpoll-id-d751713988987e9331980363e24189ce.totalpoll-poll-container .totalpoll-buttons .totalpoll-button{padding:1em;width:150px;word-wrap:normal;display:inline-block;margin:0
0.5em 1em;color:inherit;background:#EEE;border:#EEE;line-height:1;text-decoration:none;border-radius:4px}#totalpoll-id-d751713988987e9331980363e24189ce.totalpoll-poll-container .totalpoll-buttons .totalpoll-button:hover,#totalpoll-id-d751713988987e9331980363e24189ce.totalpoll-poll-container .totalpoll-buttons .totalpoll-button:focus,#totalpoll-id-d751713988987e9331980363e24189ce.totalpoll-poll-container .totalpoll-buttons .totalpoll-button:active{color:#FFF;background-color:#2196F3;border-color:#2196F3}#totalpoll-id-d751713988987e9331980363e24189ce.totalpoll-poll-container .totalpoll-buttons .totalpoll-button[disabled]{opacity:0.5;cursor:not-allowed}#totalpoll-id-d751713988987e9331980363e24189ce.totalpoll-poll-container .totalpoll-buttons .totalpoll-buttons-pagination{padding:1em;margin-bottom:1em;border:1px
solid #DDD;border-radius:4px}#totalpoll-id-d751713988987e9331980363e24189ce.totalpoll-poll-container .totalpoll-buttons .totalpoll-buttons-pagination:after{content:"";display:table;clear:both}#totalpoll-id-d751713988987e9331980363e24189ce.totalpoll-poll-container .totalpoll-captcha{margin-top:1em;margin-bottom:1em}#totalpoll-id-d751713988987e9331980363e24189ce.totalpoll-poll-container .totalpoll-captcha:after{content:"";display:table;clear:both}#totalpoll-id-d751713988987e9331980363e24189ce.totalpoll-poll-container .totalpoll-captcha>div>div{margin:0
auto}#totalpoll-id-d751713988987e9331980363e24189ce.totalpoll-poll-container.totalpoll-rtl .totalpoll-view-vote .totalpoll-choices .totalpoll-choice-first .totalpoll-choice-container{margin-left:0.5em;border-radius:4px 0 0 4px}@media all and (max-width:480px){#totalpoll-id-d751713988987e9331980363e24189ce.totalpoll-poll-container.totalpoll-rtl .totalpoll-view-vote .totalpoll-choices .totalpoll-choice-first .totalpoll-choice-container{margin-right:2em}}#totalpoll-id-d751713988987e9331980363e24189ce.totalpoll-poll-container.totalpoll-rtl .totalpoll-view-vote .totalpoll-choices .totalpoll-choice-first .totalpoll-choice-container:after{right:-2em;left:auto;border-left:2em solid #EEE;border-right:none}#totalpoll-id-d751713988987e9331980363e24189ce.totalpoll-poll-container.totalpoll-rtl .totalpoll-view-vote .totalpoll-choices .totalpoll-choice-first .totalpoll-choice-container:hover:after{border-left-color:#DDD}#totalpoll-id-d751713988987e9331980363e24189ce.totalpoll-poll-container.totalpoll-rtl .totalpoll-view-vote .totalpoll-choices .totalpoll-choice-second .totalpoll-choice-container{margin-right:0.5em;border-radius:0 4px 4px 0}@media all and (max-width:480px){#totalpoll-id-d751713988987e9331980363e24189ce.totalpoll-poll-container.totalpoll-rtl .totalpoll-view-vote .totalpoll-choices .totalpoll-choice-second .totalpoll-choice-container{margin-left:2em}}#totalpoll-id-d751713988987e9331980363e24189ce.totalpoll-poll-container.totalpoll-rtl .totalpoll-view-vote .totalpoll-choices .totalpoll-choice-second .totalpoll-choice-container:after{left:-2em;right:auto;border-right:2em solid #EEE;border-left:none}#totalpoll-id-d751713988987e9331980363e24189ce.totalpoll-poll-container.totalpoll-rtl .totalpoll-view-vote .totalpoll-choices .totalpoll-choice-second .totalpoll-choice-container:hover:after{border-right-color:#DDD}#totalpoll-id-d751713988987e9331980363e24189ce.totalpoll-poll-container.totalpoll-rtl .totalpoll-view-vote .totalpoll-choices .totalpoll-choice.checked:first-child .totalpoll-choice-container:after{border-left-color:#2196F3}#totalpoll-id-d751713988987e9331980363e24189ce.totalpoll-poll-container.totalpoll-rtl .totalpoll-view-vote .totalpoll-choices .totalpoll-choice.checked:last-child .totalpoll-choice-container:after{border-right-color:#2196F3}#totalpoll-id-d751713988987e9331980363e24189ce.totalpoll-poll-container.totalpoll-rtl .totalpoll-view-results .totalpoll-choices .totalpoll-choice-first .totalpoll-choice-container{margin-right:0;border-radius:0 4px 4px 0;-webkit-transform-origin:right;-moz-transform-origin:right;-ms-transform-origin:right;-o-transform-origin:right;transform-origin:right}@media all and (max-width:480px){#totalpoll-id-d751713988987e9331980363e24189ce.totalpoll-poll-container.totalpoll-rtl .totalpoll-view-results .totalpoll-choices .totalpoll-choice-first .totalpoll-choice-container{margin-left:2em}}#totalpoll-id-d751713988987e9331980363e24189ce.totalpoll-poll-container.totalpoll-rtl .totalpoll-view-results .totalpoll-choices .totalpoll-choice-first .totalpoll-choice-container:after{left:-2em;right:auto;border-right:2em solid #E14F00;border-left:none}#totalpoll-id-d751713988987e9331980363e24189ce.totalpoll-poll-container.totalpoll-rtl .totalpoll-view-results .totalpoll-choices .totalpoll-choice-second .totalpoll-choice-container{margin-left:0;border-radius:4px 0 0 4px;-webkit-transform-origin:left;-moz-transform-origin:left;-ms-transform-origin:left;-o-transform-origin:left;transform-origin:left}@media all and (max-width:480px){#totalpoll-id-d751713988987e9331980363e24189ce.totalpoll-poll-container.totalpoll-rtl .totalpoll-view-results .totalpoll-choices .totalpoll-choice-second .totalpoll-choice-container{margin-right:2em}}#totalpoll-id-d751713988987e9331980363e24189ce.totalpoll-poll-container.totalpoll-rtl .totalpoll-view-results .totalpoll-choices .totalpoll-choice-second .totalpoll-choice-container:after{right:-2em;left:auto;border-left:2em solid #E14F00;border-right:none}#totalpoll-id-d751713988987e9331980363e24189ce.totalpoll-poll-container.totalpoll-rtl .totalpoll-view-results .totalpoll-choices .totalpoll-choice.checked:first-child .totalpoll-choice-container:after{border-right-color:#2196F3}#totalpoll-id-d751713988987e9331980363e24189ce.totalpoll-poll-container.totalpoll-rtl .totalpoll-view-results .totalpoll-choices .totalpoll-choice.checked:last-child .totalpoll-choice-container:after{border-left-color:#2196F3}#totalpoll-id-d751713988987e9331980363e24189ce.totalpoll-poll-container.totalpoll-rtl .totalpoll-buttons .totalpoll-button-next{float:left;margin-right:0}#totalpoll-id-d751713988987e9331980363e24189ce.totalpoll-poll-container.totalpoll-rtl .totalpoll-buttons .totalpoll-button-previous{float:right;margin-right:0}#totalpoll-id-d751713988987e9331980363e24189ce.totalpoll-poll-container.totalpoll-rtl .totalpoll-fields-field[type=checkbox],#totalpoll-id-d751713988987e9331980363e24189ce.totalpoll-poll-container.totalpoll-rtl .totalpoll-fields-field[type=radio]{margin-left:0.5em;margin-right:0}