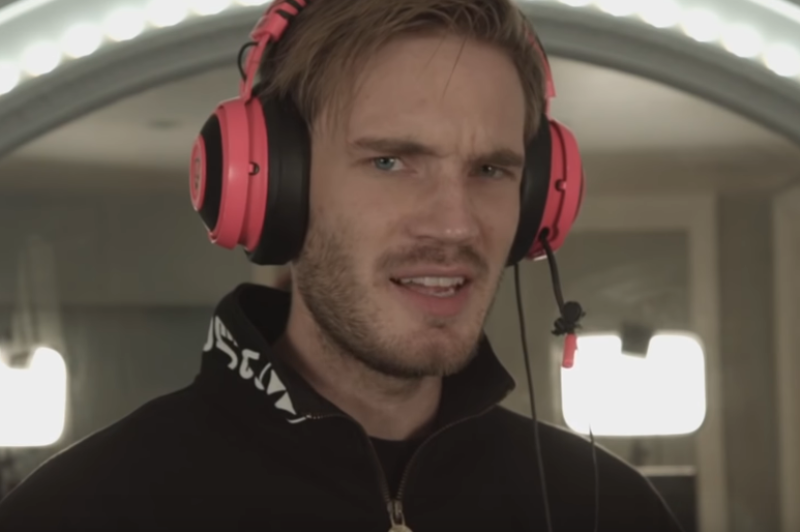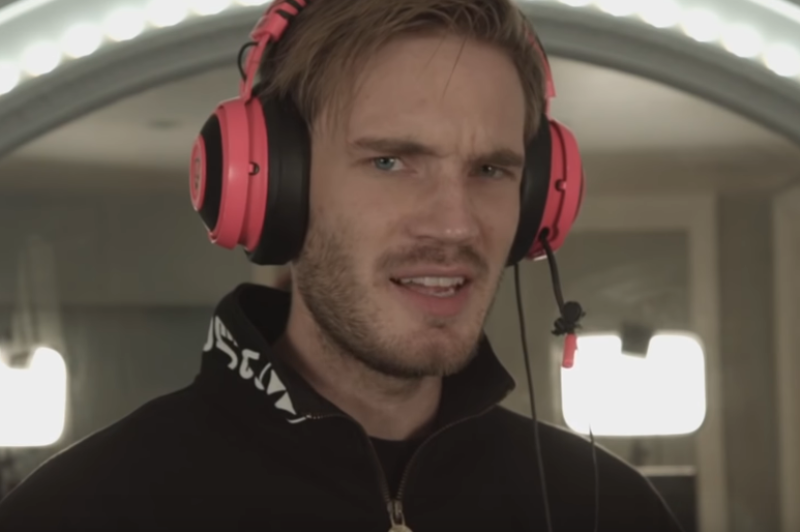 Video blogger PewDiePie (pewdiepie) decided to donate 50 thousand dollars to fight anti-Semitism. This decision he took after the New Zelandii the shooter during the attack urged to subscribe to PewDiePie. But the fans condemned this act of Felix. Blogger changed his mind and revoked the donation. The network is also condemned.
PewDiePie (pewdiepie) is the most popular works in the world, he's the only one whose personal channel on YouTube has gained more than 100 million subscribers. In order to Pudiya not spared Indian channel T-Series, his fans began to spread the hashtag #subscribePewDiePie.
It is this phrase, "Follow Pudiya", NZ suicide used in my video before you go into a mosque and shoot people. The attack occurred in March 2019, killed 51 people.
Blogger and was previously accused of inappropriate jokes and spreading hatred, racism and anti-Semitism. September 10, PewDiePie released a video and announced that he had decided to donate 50 thousand dollars of the organization ADL (Anti-Defamation League), which fights anti-Semitism.
I felt the responsibility and need to do something about it, because it's no longer just about me. This influenced other people, and I don't agree with this
PewDiePie
[embedded content]
Before PewDiePie did not agree with the accusations against him, such an act has disappointed his followers. They began to write unhappy reviews. Two days later, Felix has released a new video and announced that he had decided not to donate money to the ADL.
It was a mistake to choose a charity, which I was advised to do, instead choose a charity that I care about personally
PewDiePie
[embedded content]
That statement again caused outrage in the comments. Felix was convicted that he has no opinion and he is willing to change beliefs in favor of the public.
@-webkit-keyframes votes-bar{from{-webkit-transform:scaleX(0);-moz-transform:scaleX(0);-ms-transform:scaleX(0);-o-transform:scaleX(0);transform:scaleX(0)}to{-webkit-transform:scaleX(1);-moz-transform:scaleX(1);-ms-transform:scaleX(1);-o-transform:scaleX(1);transform:scaleX(1)}}@-moz-keyframes votes-bar{from{-webkit-transform:scaleX(0);-moz-transform:scaleX(0);-ms-transform:scaleX(0);-o-transform:scaleX(0);transform:scaleX(0)}to{-webkit-transform:scaleX(1);-moz-transform:scaleX(1);-ms-transform:scaleX(1);-o-transform:scaleX(1);transform:scaleX(1)}}@-ms-keyframes votes-bar{from{-webkit-transform:scaleX(0);-moz-transform:scaleX(0);-ms-transform:scaleX(0);-o-transform:scaleX(0);transform:scaleX(0)}to{-webkit-transform:scaleX(1);-moz-transform:scaleX(1);-ms-transform:scaleX(1);-o-transform:scaleX(1);transform:scaleX(1)}}@keyframes votes-bar{from{-webkit-transform:scaleX(0);-moz-transform:scaleX(0);-ms-transform:scaleX(0);-o-transform:scaleX(0);transform:scaleX(0)}to{-webkit-transform:scaleX(1);-moz-transform:scaleX(1);-ms-transform:scaleX(1);-o-transform:scaleX(1);transform:scaleX(1)}}@-webkit-keyframes choices-text{from{opacity:0;-ms-filter:"progid:DXImageTransform.Microsoft.Alpha(Opacity=0)"}to{opacity:1;-ms-filter:"progid:DXImageTransform.Microsoft.Alpha(Opacity=100)"}}@-moz-keyframes choices-text{from{opacity:0;-ms-filter:"progid:DXImageTransform.Microsoft.Alpha(Opacity=0)"}to{opacity:1;-ms-filter:"progid:DXImageTransform.Microsoft.Alpha(Opacity=100)"}}@-ms-keyframes choices-text{from{opacity:0;-ms-filter:"progid:DXImageTransform.Microsoft.Alpha(Opacity=0)"}to{opacity:1;-ms-filter:"progid:DXImageTransform.Microsoft.Alpha(Opacity=100)"}}@keyframes choices-text{from{opacity:0;-ms-filter:"progid:DXImageTransform.Microsoft.Alpha(Opacity=0)"}to{opacity:1;-ms-filter:"progid:DXImageTransform.Microsoft.Alpha(Opacity=100)"}}#totalpoll-id-d751713988987e9331980363e24189ce.totalpoll-poll-container{line-height:1.5;font-family:inherit;font-size:14px}#totalpoll-id-d751713988987e9331980363e24189ce.totalpoll-poll-container
*{box-sizing:border-box;-webkit-box-sizing:border-box;-moz-box-sizing:border-box;-o-box-sizing:border-box;line-height:inherit;font-family:inherit;font-size:inherit}#totalpoll-id-d751713988987e9331980363e24189ce.totalpoll-poll-container div,#totalpoll-id-d751713988987e9331980363e24189ce.totalpoll-poll-container span,#totalpoll-id-d751713988987e9331980363e24189ce.totalpoll-poll-container applet,#totalpoll-id-d751713988987e9331980363e24189ce.totalpoll-poll-container object,#totalpoll-id-d751713988987e9331980363e24189ce.totalpoll-poll-container iframe,#totalpoll-id-d751713988987e9331980363e24189ce.totalpoll-poll-container h1,#totalpoll-id-d751713988987e9331980363e24189ce.totalpoll-poll-container h2,#totalpoll-id-d751713988987e9331980363e24189ce.totalpoll-poll-container h3,#totalpoll-id-d751713988987e9331980363e24189ce.totalpoll-poll-container h4,#totalpoll-id-d751713988987e9331980363e24189ce.totalpoll-poll-container h5,#totalpoll-id-d751713988987e9331980363e24189ce.totalpoll-poll-container h6,#totalpoll-id-d751713988987e9331980363e24189ce.totalpoll-poll-container p,#totalpoll-id-d751713988987e9331980363e24189ce.totalpoll-poll-container blockquote,#totalpoll-id-d751713988987e9331980363e24189ce.totalpoll-poll-container pre,#totalpoll-id-d751713988987e9331980363e24189ce.totalpoll-poll-container a,#totalpoll-id-d751713988987e9331980363e24189ce.totalpoll-poll-container abbr,#totalpoll-id-d751713988987e9331980363e24189ce.totalpoll-poll-container acronym,#totalpoll-id-d751713988987e9331980363e24189ce.totalpoll-poll-container address,#totalpoll-id-d751713988987e9331980363e24189ce.totalpoll-poll-container big,#totalpoll-id-d751713988987e9331980363e24189ce.totalpoll-poll-container cite,#totalpoll-id-d751713988987e9331980363e24189ce.totalpoll-poll-container code,#totalpoll-id-d751713988987e9331980363e24189ce.totalpoll-poll-container del,#totalpoll-id-d751713988987e9331980363e24189ce.totalpoll-poll-container dfn,#totalpoll-id-d751713988987e9331980363e24189ce.totalpoll-poll-container em,#totalpoll-id-d751713988987e9331980363e24189ce.totalpoll-poll-container font,#totalpoll-id-d751713988987e9331980363e24189ce.totalpoll-poll-container img,#totalpoll-id-d751713988987e9331980363e24189ce.totalpoll-poll-container ins,#totalpoll-id-d751713988987e9331980363e24189ce.totalpoll-poll-container kbd,#totalpoll-id-d751713988987e9331980363e24189ce.totalpoll-poll-container q,#totalpoll-id-d751713988987e9331980363e24189ce.totalpoll-poll-container s,#totalpoll-id-d751713988987e9331980363e24189ce.totalpoll-poll-container samp,#totalpoll-id-d751713988987e9331980363e24189ce.totalpoll-poll-container small,#totalpoll-id-d751713988987e9331980363e24189ce.totalpoll-poll-container strike,#totalpoll-id-d751713988987e9331980363e24189ce.totalpoll-poll-container strong,#totalpoll-id-d751713988987e9331980363e24189ce.totalpoll-poll-container sub,#totalpoll-id-d751713988987e9331980363e24189ce.totalpoll-poll-container sup,#totalpoll-id-d751713988987e9331980363e24189ce.totalpoll-poll-container tt,#totalpoll-id-d751713988987e9331980363e24189ce.totalpoll-poll-container var,#totalpoll-id-d751713988987e9331980363e24189ce.totalpoll-poll-container b,#totalpoll-id-d751713988987e9331980363e24189ce.totalpoll-poll-container i,#totalpoll-id-d751713988987e9331980363e24189ce.totalpoll-poll-container center,#totalpoll-id-d751713988987e9331980363e24189ce.totalpoll-poll-container dl,#totalpoll-id-d751713988987e9331980363e24189ce.totalpoll-poll-container dt,#totalpoll-id-d751713988987e9331980363e24189ce.totalpoll-poll-container dd,#totalpoll-id-d751713988987e9331980363e24189ce.totalpoll-poll-container ol,#totalpoll-id-d751713988987e9331980363e24189ce.totalpoll-poll-container ul,#totalpoll-id-d751713988987e9331980363e24189ce.totalpoll-poll-container li,#totalpoll-id-d751713988987e9331980363e24189ce.totalpoll-poll-container fieldset,#totalpoll-id-d751713988987e9331980363e24189ce.totalpoll-poll-container form,#totalpoll-id-d751713988987e9331980363e24189ce.totalpoll-poll-container label,#totalpoll-id-d751713988987e9331980363e24189ce.totalpoll-poll-container legend,#totalpoll-id-d751713988987e9331980363e24189ce.totalpoll-poll-container table,#totalpoll-id-d751713988987e9331980363e24189ce.totalpoll-poll-container caption,#totalpoll-id-d751713988987e9331980363e24189ce.totalpoll-poll-container tbody,#totalpoll-id-d751713988987e9331980363e24189ce.totalpoll-poll-container tfoot,#totalpoll-id-d751713988987e9331980363e24189ce.totalpoll-poll-container thead,#totalpoll-id-d751713988987e9331980363e24189ce.totalpoll-poll-container tr,#totalpoll-id-d751713988987e9331980363e24189ce.totalpoll-poll-container th,#totalpoll-id-d751713988987e9331980363e24189ce.totalpoll-poll-container td,#totalpoll-id-d751713988987e9331980363e24189ce.totalpoll-poll-container article,#totalpoll-id-d751713988987e9331980363e24189ce.totalpoll-poll-container aside,#totalpoll-id-d751713988987e9331980363e24189ce.totalpoll-poll-container audio,#totalpoll-id-d751713988987e9331980363e24189ce.totalpoll-poll-container canvas,#totalpoll-id-d751713988987e9331980363e24189ce.totalpoll-poll-container details,#totalpoll-id-d751713988987e9331980363e24189ce.totalpoll-poll-container figcaption,#totalpoll-id-d751713988987e9331980363e24189ce.totalpoll-poll-container figure,#totalpoll-id-d751713988987e9331980363e24189ce.totalpoll-poll-container footer,#totalpoll-id-d751713988987e9331980363e24189ce.totalpoll-poll-container header,#totalpoll-id-d751713988987e9331980363e24189ce.totalpoll-poll-container hgroup,#totalpoll-id-d751713988987e9331980363e24189ce.totalpoll-poll-container mark,#totalpoll-id-d751713988987e9331980363e24189ce.totalpoll-poll-container menu,#totalpoll-id-d751713988987e9331980363e24189ce.totalpoll-poll-container meter,#totalpoll-id-d751713988987e9331980363e24189ce.totalpoll-poll-container nav,#totalpoll-id-d751713988987e9331980363e24189ce.totalpoll-poll-container output,#totalpoll-id-d751713988987e9331980363e24189ce.totalpoll-poll-container progress,#totalpoll-id-d751713988987e9331980363e24189ce.totalpoll-poll-container section,#totalpoll-id-d751713988987e9331980363e24189ce.totalpoll-poll-container summary,#totalpoll-id-d751713988987e9331980363e24189ce.totalpoll-poll-container time,#totalpoll-id-d751713988987e9331980363e24189ce.totalpoll-poll-container
video{border:0;outline:0;vertical-align:baseline;background-color:transparent;margin:0;padding:0}#totalpoll-id-d751713988987e9331980363e24189ce.totalpoll-poll-container
body{line-height:1}#totalpoll-id-d751713988987e9331980363e24189ce.totalpoll-poll-container article,#totalpoll-id-d751713988987e9331980363e24189ce.totalpoll-poll-container aside,#totalpoll-id-d751713988987e9331980363e24189ce.totalpoll-poll-container dialog,#totalpoll-id-d751713988987e9331980363e24189ce.totalpoll-poll-container figure,#totalpoll-id-d751713988987e9331980363e24189ce.totalpoll-poll-container footer,#totalpoll-id-d751713988987e9331980363e24189ce.totalpoll-poll-container header,#totalpoll-id-d751713988987e9331980363e24189ce.totalpoll-poll-container hgroup,#totalpoll-id-d751713988987e9331980363e24189ce.totalpoll-poll-container nav,#totalpoll-id-d751713988987e9331980363e24189ce.totalpoll-poll-container section,#totalpoll-id-d751713988987e9331980363e24189ce.totalpoll-poll-container
blockquote{display:block}#totalpoll-id-d751713988987e9331980363e24189ce.totalpoll-poll-container ul,#totalpoll-id-d751713988987e9331980363e24189ce.totalpoll-poll-container
ol{list-style:none}#totalpoll-id-d751713988987e9331980363e24189ce.totalpoll-poll-container blockquote,#totalpoll-id-d751713988987e9331980363e24189ce.totalpoll-poll-container
q{quotes:none}#totalpoll-id-d751713988987e9331980363e24189ce.totalpoll-poll-container blockquote:before,#totalpoll-id-d751713988987e9331980363e24189ce.totalpoll-poll-container blockquote:after,#totalpoll-id-d751713988987e9331980363e24189ce.totalpoll-poll-container q:before,#totalpoll-id-d751713988987e9331980363e24189ce.totalpoll-poll-container q:after{content:none}#totalpoll-id-d751713988987e9331980363e24189ce.totalpoll-poll-container
ins{text-decoration:underline}#totalpoll-id-d751713988987e9331980363e24189ce.totalpoll-poll-container
del{text-decoration:line-through}#totalpoll-id-d751713988987e9331980363e24189ce.totalpoll-poll-container
mark{background:none}#totalpoll-id-d751713988987e9331980363e24189ce.totalpoll-poll-container abbr[title],#totalpoll-id-d751713988987e9331980363e24189ce.totalpoll-poll-container dfn[title]{border-bottom:1px dotted #000;cursor:help}#totalpoll-id-d751713988987e9331980363e24189ce.totalpoll-poll-container
table{border-collapse:collapse;border-spacing:0}#totalpoll-id-d751713988987e9331980363e24189ce.totalpoll-poll-container
hr{display:block;height:1px;border:0;border-top:1px solid #ccc;margin:1em
0;padding:0}#totalpoll-id-d751713988987e9331980363e24189ce.totalpoll-poll-container input[type=submit],#totalpoll-id-d751713988987e9331980363e24189ce.totalpoll-poll-container input[type=button],#totalpoll-id-d751713988987e9331980363e24189ce.totalpoll-poll-container
button{margin:0;padding:0}#totalpoll-id-d751713988987e9331980363e24189ce.totalpoll-poll-container input,#totalpoll-id-d751713988987e9331980363e24189ce.totalpoll-poll-container select,#totalpoll-id-d751713988987e9331980363e24189ce.totalpoll-poll-container
img{vertical-align:middle}#totalpoll-id-d751713988987e9331980363e24189ce.totalpoll-poll-container video,#totalpoll-id-d751713988987e9331980363e24189ce.totalpoll-poll-container
audio{vertical-align:bottom}#totalpoll-id-d751713988987e9331980363e24189ce.totalpoll-poll-container
img{max-width:100%}#totalpoll-id-d751713988987e9331980363e24189ce.totalpoll-poll-container
li{list-style:none inside}#totalpoll-id-d751713988987e9331980363e24189ce.totalpoll-poll-container ul:before,#totalpoll-id-d751713988987e9331980363e24189ce.totalpoll-poll-container li:before,#totalpoll-id-d751713988987e9331980363e24189ce.totalpoll-poll-container ul:after,#totalpoll-id-d751713988987e9331980363e24189ce.totalpoll-poll-container li:after{display:none;content:""}#totalpoll-id-d751713988987e9331980363e24189ce.totalpoll-poll-container .totalpoll-error-message{padding:1em;margin-bottom:1em;color:#F44336;background-color:#FFFAFB;border:1px
solid #F5BCC8}#totalpoll-id-d751713988987e9331980363e24189ce.totalpoll-poll-container .totalpoll-question{font-weight:bold;font-size:1.5em;text-align:center;margin-bottom:2em;border:0;padding:0}#totalpoll-id-d751713988987e9331980363e24189ce.totalpoll-poll-container .totalpoll-choices{margin:2em
auto;display:table;width:100%}#totalpoll-id-d751713988987e9331980363e24189ce.totalpoll-poll-container .totalpoll-choices:after{content:"";display:table;clear:both}#totalpoll-id-d751713988987e9331980363e24189ce.totalpoll-poll-container .totalpoll-choices .totalpoll-choice{display:table-cell;vertical-align:middle;width:50%;height:4em}@media all and (max-width:480px){#totalpoll-id-d751713988987e9331980363e24189ce.totalpoll-poll-container .totalpoll-choices .totalpoll-choice{display:block;margin:1em
0;width:100%}}#totalpoll-id-d751713988987e9331980363e24189ce.totalpoll-poll-container .totalpoll-choices .totalpoll-choice .totalpoll-choice-container{background:#EEE;color:#000;display:block;height:100%;position:relative}#totalpoll-id-d751713988987e9331980363e24189ce.totalpoll-poll-container .totalpoll-choices .totalpoll-choice .totalpoll-choice-container:after{content:";height:0;width:0;position:absolute;top:0;border-top:2em solid transparent;border-bottom:2em solid transparent}#totalpoll-id-d751713988987e9331980363e24189ce.totalpoll-poll-container .totalpoll-choices .totalpoll-choice .totalpoll-choice-container .totalpoll-choice-content{display:table;height:100%;width:100%}#totalpoll-id-d751713988987e9331980363e24189ce.totalpoll-poll-container .totalpoll-choices .totalpoll-choice .totalpoll-choice-container .totalpoll-choice-content .totalpoll-choice-label{display:table-cell;vertical-align:middle;text-align:center;padding:0
0.5em;line-height:1.5;font-size:1.1em;text-shadow:1px 1px rgba(0,0,0,0)}#totalpoll-id-d751713988987e9331980363e24189ce.totalpoll-poll-container .totalpoll-view-vote .totalpoll-choice-container{cursor:pointer}#totalpoll-id-d751713988987e9331980363e24189ce.totalpoll-poll-container .totalpoll-view-vote .totalpoll-choices .totalpoll-choice .totalpoll-choice-checkbox-container{display:none}#totalpoll-id-d751713988987e9331980363e24189ce.totalpoll-poll-container .totalpoll-view-vote .totalpoll-choices .totalpoll-choice .totalpoll-choice-container:hover{background:#DDD}#totalpoll-id-d751713988987e9331980363e24189ce.totalpoll-poll-container .totalpoll-view-vote .totalpoll-choices .totalpoll-choice-first .totalpoll-choice-container{margin-left:2em;margin-right:0.5em;border-top-right-radius:4px;border-bottom-right-radius:4px}#totalpoll-id-d751713988987e9331980363e24189ce.totalpoll-poll-container .totalpoll-view-vote .totalpoll-choices .totalpoll-choice-first .totalpoll-choice-container:after{left:-2em;border-right:2em solid #EEE}#totalpoll-id-d751713988987e9331980363e24189ce.totalpoll-poll-container .totalpoll-view-vote .totalpoll-choices .totalpoll-choice-first .totalpoll-choice-container:hover:after{border-right-color:#DDD}#totalpoll-id-d751713988987e9331980363e24189ce.totalpoll-poll-container .totalpoll-view-vote .totalpoll-choices .totalpoll-choice-second .totalpoll-choice-container{margin-right:2em;margin-left:0.5em;border-top-left-radius:4px;border-bottom-left-radius:4px}#totalpoll-id-d751713988987e9331980363e24189ce.totalpoll-poll-container .totalpoll-view-vote .totalpoll-choices .totalpoll-choice-second .totalpoll-choice-container:after{right:-2em;border-left:2em solid #EEE}#totalpoll-id-d751713988987e9331980363e24189ce.totalpoll-poll-container .totalpoll-view-vote .totalpoll-choices .totalpoll-choice-second .totalpoll-choice-container:hover:after{border-left-color:#DDD}#totalpoll-id-d751713988987e9331980363e24189ce.totalpoll-poll-container .totalpoll-view-vote .totalpoll-choices .totalpoll-choice.checked .totalpoll-choice-container{background:#2196F3;color:#FFF}#totalpoll-id-d751713988987e9331980363e24189ce.totalpoll-poll-container .totalpoll-view-vote .totalpoll-choices .totalpoll-choice.checked:first-child .totalpoll-choice-container:after{border-right-color:#2196F3}#totalpoll-id-d751713988987e9331980363e24189ce.totalpoll-poll-container .totalpoll-view-vote .totalpoll-choices .totalpoll-choice.checked:last-child .totalpoll-choice-container:after{border-left-color:#2196F3}#totalpoll-id-d751713988987e9331980363e24189ce.totalpoll-poll-container .totalpoll-view-results .totalpoll-choices .totalpoll-choice{position:relative}@media all and (max-width:480px){#totalpoll-id-d751713988987e9331980363e24189ce.totalpoll-poll-container .totalpoll-view-results .totalpoll-choices .totalpoll-choice{width:100% !important}}#totalpoll-id-d751713988987e9331980363e24189ce.totalpoll-poll-container .totalpoll-view-results .totalpoll-choices .totalpoll-choice-first .totalpoll-choice-container{background:#E14F00;color:#FFF;border-top-left-radius:4px;border-bottom-left-radius:4px;-webkit-transform-origin:left;-moz-transform-origin:left;-ms-transform-origin:left;-o-transform-origin:left;transform-origin:left}#totalpoll-id-d751713988987e9331980363e24189ce.totalpoll-poll-container .totalpoll-view-results .totalpoll-choices .totalpoll-choice-first .totalpoll-choice-container .totalpoll-choice-label{text-shadow:1px 1px rgba(0,0,0,0)}@media all and (max-width:480px){#totalpoll-id-d751713988987e9331980363e24189ce.totalpoll-poll-container .totalpoll-view-results .totalpoll-choices .totalpoll-choice-first .totalpoll-choice-container{margin-right:2em}}#totalpoll-id-d751713988987e9331980363e24189ce.totalpoll-poll-container .totalpoll-view-results .totalpoll-choices .totalpoll-choice-first .totalpoll-choice-container:after{right:-2em;border-left:2em solid #E14F00}#totalpoll-id-d751713988987e9331980363e24189ce.totalpoll-poll-container .totalpoll-view-results .totalpoll-choices .totalpoll-choice-second .totalpoll-choice-container{background:#E14F00;color:#FFF;border-top-right-radius:4px;border-bottom-right-radius:4px;-webkit-transform-origin:right;-moz-transform-origin:right;-ms-transform-origin:right;-o-transform-origin:right;transform-origin:right}#totalpoll-id-d751713988987e9331980363e24189ce.totalpoll-poll-container .totalpoll-view-results .totalpoll-choices .totalpoll-choice-second .totalpoll-choice-container .totalpoll-choice-label{text-shadow:1px 1px rgba(0,0,0,0)}@media all and (max-width:480px){#totalpoll-id-d751713988987e9331980363e24189ce.totalpoll-poll-container .totalpoll-view-results .totalpoll-choices .totalpoll-choice-second .totalpoll-choice-container{margin-left:2em}}#totalpoll-id-d751713988987e9331980363e24189ce.totalpoll-poll-container .totalpoll-view-results .totalpoll-choices .totalpoll-choice-second .totalpoll-choice-container:after{left:-2em;border-right:2em solid #E14F00}#totalpoll-id-d751713988987e9331980363e24189ce.totalpoll-poll-container .totalpoll-view-results .totalpoll-choices .totalpoll-choice .totalpoll-choice-container{-webkit-animation-fill-mode:both;-moz-animation-fill-mode:both;-o-animation-fill-mode:both;animation-fill-mode:both;-webkit-animation:votes-bar 1000ms ease-out;-moz-animation:votes-bar 1000ms ease-out;-o-animation:votes-bar 1000ms ease-out;animation:votes-bar 1000ms ease-out}#totalpoll-id-d751713988987e9331980363e24189ce.totalpoll-poll-container .totalpoll-view-results .totalpoll-choices .totalpoll-choice .totalpoll-choice-container .totalpoll-choice-label{opacity:0;-ms-filter:"progid:DXImageTransform.Microsoft.Alpha(Opacity=0)";-webkit-animation:choices-text 200ms ease-out 300ms;-moz-animation:choices-text 200ms ease-out 300ms;-o-animation:choices-text 200ms ease-out 300ms;animation:choices-text 200ms ease-out 300ms;-webkit-animation-fill-mode:forwards;-moz-animation-fill-mode:forwards;-o-animation-fill-mode:forwards;animation-fill-mode:forwards}#totalpoll-id-d751713988987e9331980363e24189ce.totalpoll-poll-container .totalpoll-view-results .totalpoll-choices .totalpoll-choice .totalpoll-choice-container .totalpoll-choice-votes{font-size:0.8em}#totalpoll-id-d751713988987e9331980363e24189ce.totalpoll-poll-container .totalpoll-view-results .totalpoll-choices .totalpoll-choice.checked .totalpoll-choice-container{background:#2196F3;color:#FFF}#totalpoll-id-d751713988987e9331980363e24189ce.totalpoll-poll-container .totalpoll-view-results .totalpoll-choices .totalpoll-choice.checked .totalpoll-choice-container .totalpoll-choice-label{text-shadow:1px 1px rgba(0,0,0,0)}#totalpoll-id-d751713988987e9331980363e24189ce.totalpoll-poll-container .totalpoll-view-results .totalpoll-choices .totalpoll-choice.checked:first-child .totalpoll-choice-container:after{border-left-color:#2196F3}#totalpoll-id-d751713988987e9331980363e24189ce.totalpoll-poll-container .totalpoll-view-results .totalpoll-choices .totalpoll-choice.checked:last-child .totalpoll-choice-container:after{border-right-color:#2196F3}#totalpoll-id-d751713988987e9331980363e24189ce.totalpoll-poll-container .totalpoll-fields .totalpoll-field-wrapper
label{display:block;margin-bottom:1rem}#totalpoll-id-d751713988987e9331980363e24189ce.totalpoll-poll-container .totalpoll-fields .totalpoll-field-wrapper .totalpoll-fields-field{border-radius:4px}#totalpoll-id-d751713988987e9331980363e24189ce.totalpoll-poll-container .totalpoll-fields .totalpoll-field-wrapper .totalpoll-field-error{margin-top:1em;margin-bottom:1em;padding-bottom:1em;border-bottom:1px solid #DDD;color:#F44336;border-radius:4px}#totalpoll-id-d751713988987e9331980363e24189ce.totalpoll-poll-container .totalpoll-fields .totalpoll-field-wrapper+.totalpoll-field-wrapper{margin-top:1.5em}#totalpoll-id-d751713988987e9331980363e24189ce.totalpoll-poll-container .totalpoll-fields-field{width:100%}#totalpoll-id-d751713988987e9331980363e24189ce.totalpoll-poll-container .totalpoll-fields-field[type=checkbox],#totalpoll-id-d751713988987e9331980363e24189ce.totalpoll-poll-container .totalpoll-fields-field[type=radio]{width:auto;margin-right:0.5em}#totalpoll-id-d751713988987e9331980363e24189ce.totalpoll-poll-container .totalpoll-buttons{text-align:center}#totalpoll-id-d751713988987e9331980363e24189ce.totalpoll-poll-container .totalpoll-buttons .totalpoll-button{padding:1em;width:150px;word-wrap:normal;display:inline-block;margin:0
0.5em 1em;color:inherit;background:#EEE;border:#EEE;line-height:1;text-decoration:none;border-radius:4px}#totalpoll-id-d751713988987e9331980363e24189ce.totalpoll-poll-container .totalpoll-buttons .totalpoll-button:hover,#totalpoll-id-d751713988987e9331980363e24189ce.totalpoll-poll-container .totalpoll-buttons .totalpoll-button:focus,#totalpoll-id-d751713988987e9331980363e24189ce.totalpoll-poll-container .totalpoll-buttons .totalpoll-button:active{color:#FFF;background-color:#2196F3;border-color:#2196F3}#totalpoll-id-d751713988987e9331980363e24189ce.totalpoll-poll-container .totalpoll-buttons .totalpoll-button[disabled]{opacity:0.5;cursor:not-allowed}#totalpoll-id-d751713988987e9331980363e24189ce.totalpoll-poll-container .totalpoll-buttons .totalpoll-buttons-pagination{padding:1em;margin-bottom:1em;border:1px
solid #DDD;border-radius:4px}#totalpoll-id-d751713988987e9331980363e24189ce.totalpoll-poll-container .totalpoll-buttons .totalpoll-buttons-pagination:after{content:"";display:table;clear:both}#totalpoll-id-d751713988987e9331980363e24189ce.totalpoll-poll-container .totalpoll-captcha{margin-top:1em;margin-bottom:1em}#totalpoll-id-d751713988987e9331980363e24189ce.totalpoll-poll-container .totalpoll-captcha:after{content:"";display:table;clear:both}#totalpoll-id-d751713988987e9331980363e24189ce.totalpoll-poll-container .totalpoll-captcha>div>div{margin:0
auto}#totalpoll-id-d751713988987e9331980363e24189ce.totalpoll-poll-container.totalpoll-rtl .totalpoll-view-vote .totalpoll-choices .totalpoll-choice-first .totalpoll-choice-container{margin-left:0.5em;border-radius:4px 0 0 4px}@media all and (max-width:480px){#totalpoll-id-d751713988987e9331980363e24189ce.totalpoll-poll-container.totalpoll-rtl .totalpoll-view-vote .totalpoll-choices .totalpoll-choice-first .totalpoll-choice-container{margin-right:2em}}#totalpoll-id-d751713988987e9331980363e24189ce.totalpoll-poll-container.totalpoll-rtl .totalpoll-view-vote .totalpoll-choices .totalpoll-choice-first .totalpoll-choice-container:after{right:-2em;left:auto;border-left:2em solid #EEE;border-right:none}#totalpoll-id-d751713988987e9331980363e24189ce.totalpoll-poll-container.totalpoll-rtl .totalpoll-view-vote .totalpoll-choices .totalpoll-choice-first .totalpoll-choice-container:hover:after{border-left-color:#DDD}#totalpoll-id-d751713988987e9331980363e24189ce.totalpoll-poll-container.totalpoll-rtl .totalpoll-view-vote .totalpoll-choices .totalpoll-choice-second .totalpoll-choice-container{margin-right:0.5em;border-radius:0 4px 4px 0}@media all and (max-width:480px){#totalpoll-id-d751713988987e9331980363e24189ce.totalpoll-poll-container.totalpoll-rtl .totalpoll-view-vote .totalpoll-choices .totalpoll-choice-second .totalpoll-choice-container{margin-left:2em}}#totalpoll-id-d751713988987e9331980363e24189ce.totalpoll-poll-container.totalpoll-rtl .totalpoll-view-vote .totalpoll-choices .totalpoll-choice-second .totalpoll-choice-container:after{left:-2em;right:auto;border-right:2em solid #EEE;border-left:none}#totalpoll-id-d751713988987e9331980363e24189ce.totalpoll-poll-container.totalpoll-rtl .totalpoll-view-vote .totalpoll-choices .totalpoll-choice-second .totalpoll-choice-container:hover:after{border-right-color:#DDD}#totalpoll-id-d751713988987e9331980363e24189ce.totalpoll-poll-container.totalpoll-rtl .totalpoll-view-vote .totalpoll-choices .totalpoll-choice.checked:first-child .totalpoll-choice-container:after{border-left-color:#2196F3}#totalpoll-id-d751713988987e9331980363e24189ce.totalpoll-poll-container.totalpoll-rtl .totalpoll-view-vote .totalpoll-choices .totalpoll-choice.checked:last-child .totalpoll-choice-container:after{border-right-color:#2196F3}#totalpoll-id-d751713988987e9331980363e24189ce.totalpoll-poll-container.totalpoll-rtl .totalpoll-view-results .totalpoll-choices .totalpoll-choice-first .totalpoll-choice-container{margin-right:0;border-radius:0 4px 4px 0;-webkit-transform-origin:right;-moz-transform-origin:right;-ms-transform-origin:right;-o-transform-origin:right;transform-origin:right}@media all and (max-width:480px){#totalpoll-id-d751713988987e9331980363e24189ce.totalpoll-poll-container.totalpoll-rtl .totalpoll-view-results .totalpoll-choices .totalpoll-choice-first .totalpoll-choice-container{margin-left:2em}}#totalpoll-id-d751713988987e9331980363e24189ce.totalpoll-poll-container.totalpoll-rtl .totalpoll-view-results .totalpoll-choices .totalpoll-choice-first .totalpoll-choice-container:after{left:-2em;right:auto;border-right:2em solid #E14F00;border-left:none}#totalpoll-id-d751713988987e9331980363e24189ce.totalpoll-poll-container.totalpoll-rtl .totalpoll-view-results .totalpoll-choices .totalpoll-choice-second .totalpoll-choice-container{margin-left:0;border-radius:4px 0 0 4px;-webkit-transform-origin:left;-moz-transform-origin:left;-ms-transform-origin:left;-o-transform-origin:left;transform-origin:left}@media all and (max-width:480px){#totalpoll-id-d751713988987e9331980363e24189ce.totalpoll-poll-container.totalpoll-rtl .totalpoll-view-results .totalpoll-choices .totalpoll-choice-second .totalpoll-choice-container{margin-right:2em}}#totalpoll-id-d751713988987e9331980363e24189ce.totalpoll-poll-container.totalpoll-rtl .totalpoll-view-results .totalpoll-choices .totalpoll-choice-second .totalpoll-choice-container:after{right:-2em;left:auto;border-left:2em solid #E14F00;border-right:none}#totalpoll-id-d751713988987e9331980363e24189ce.totalpoll-poll-container.totalpoll-rtl .totalpoll-view-results .totalpoll-choices .totalpoll-choice.checked:first-child .totalpoll-choice-container:after{border-right-color:#2196F3}#totalpoll-id-d751713988987e9331980363e24189ce.totalpoll-poll-container.totalpoll-rtl .totalpoll-view-results .totalpoll-choices .totalpoll-choice.checked:last-child .totalpoll-choice-container:after{border-left-color:#2196F3}#totalpoll-id-d751713988987e9331980363e24189ce.totalpoll-poll-container.totalpoll-rtl .totalpoll-buttons .totalpoll-button-next{float:left;margin-right:0}#totalpoll-id-d751713988987e9331980363e24189ce.totalpoll-poll-container.totalpoll-rtl .totalpoll-buttons .totalpoll-button-previous{float:right;margin-right:0}#totalpoll-id-d751713988987e9331980363e24189ce.totalpoll-poll-container.totalpoll-rtl .totalpoll-fields-field[type=checkbox],#totalpoll-id-d751713988987e9331980363e24189ce.totalpoll-poll-container.totalpoll-rtl .totalpoll-fields-field[type=radio]{margin-left:0.5em;margin-right:0}