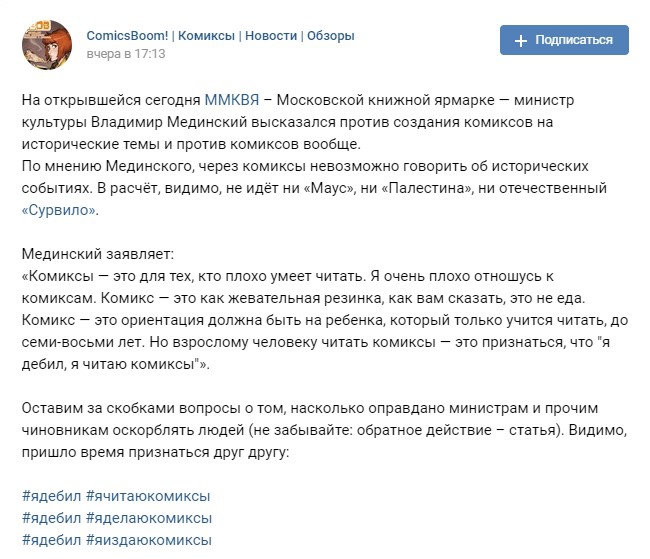 The Internet has launched hashtags #debil and #acetyloxy. This is the answer to yesterday's statement of Minister of culture Vladimir Medinsky that the comic is read only by morons.
Recall that on 4 September, the Minister visited the 32-th Moscow international book exhibition-fair. And here's what he said about the comic:
Comics — this is for those who do not know how to read. I'm very bad attitude to the comics. The comic is like a chewing gum, as you say, it's not food. Comic — the focus should be on the child who is just learning to read, to seven to eight years. But an adult reading comics is a confession that "I'm a moron, I read comics"
Vladimir Medinsky
Twitter and other social networks, has launched a flash mob. Users write about their relationship to graphic novels, share photos of their collections and put ironic hashtags.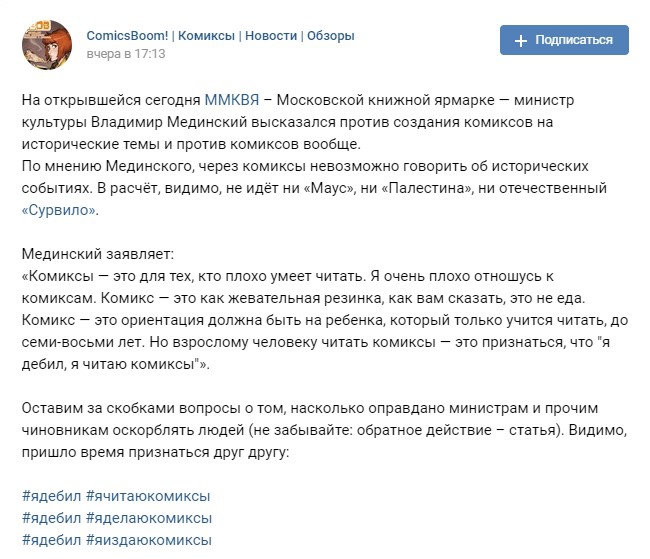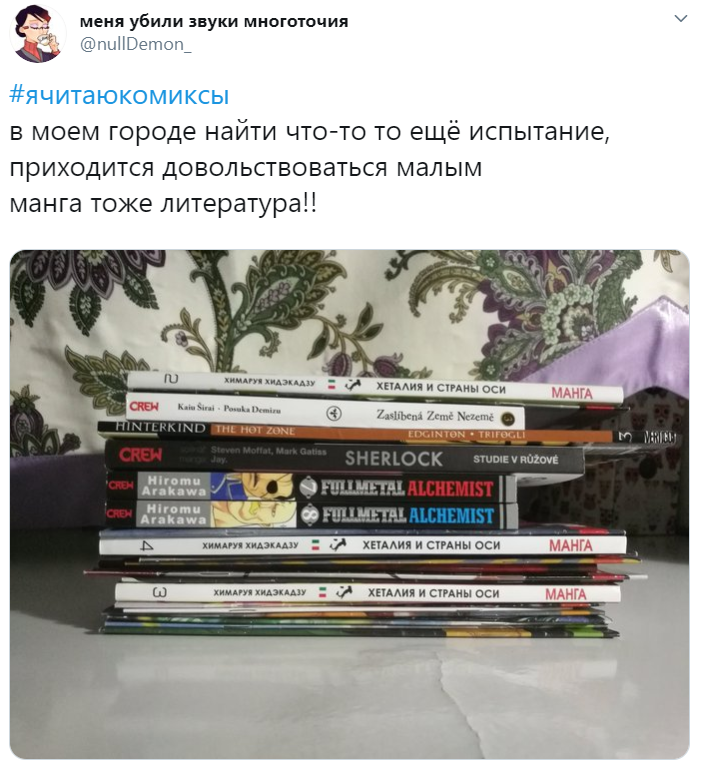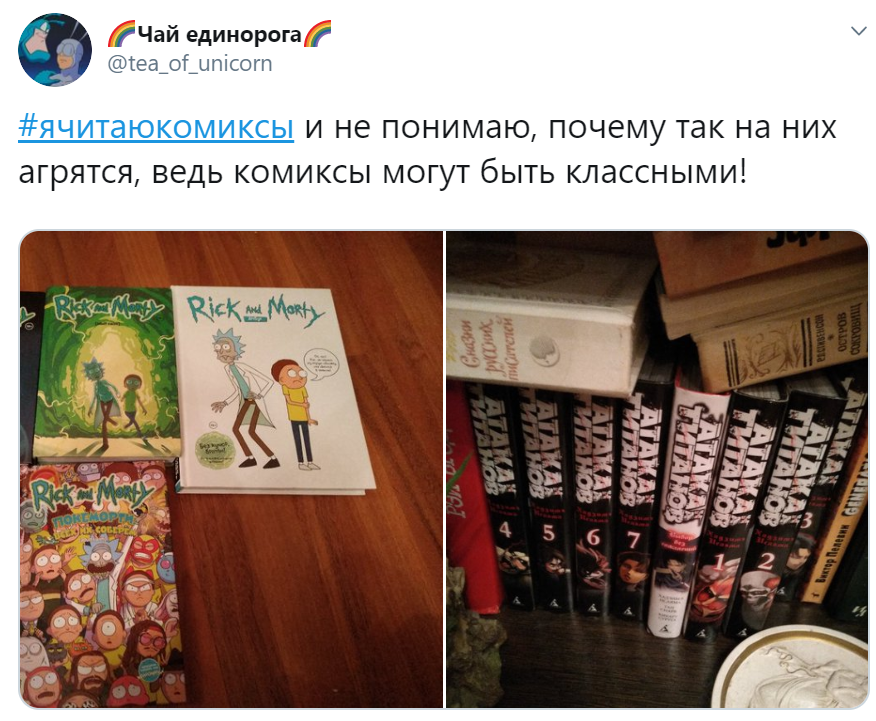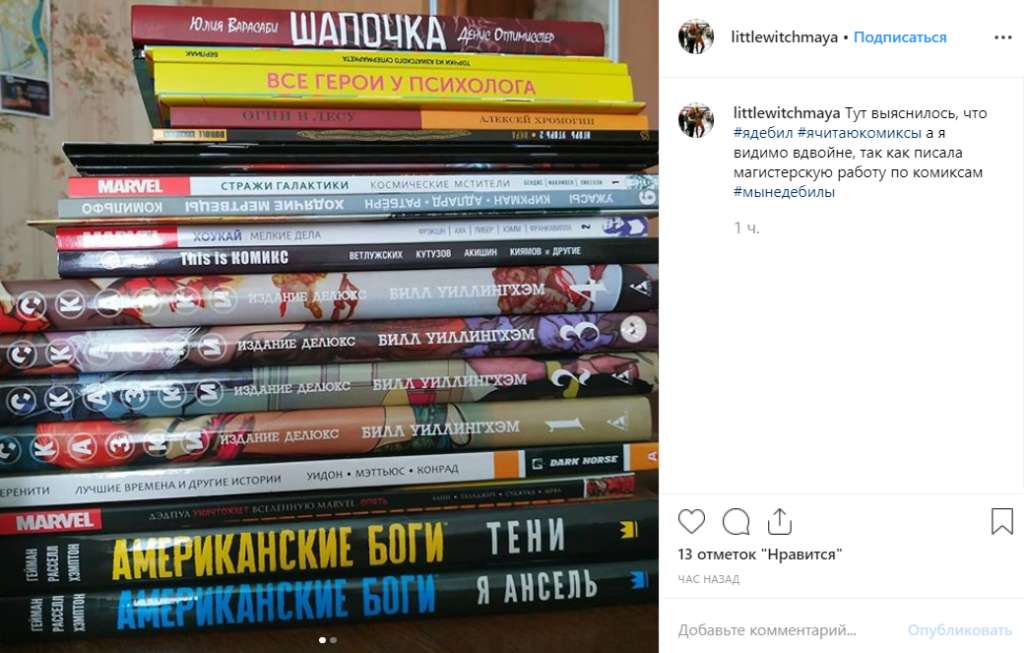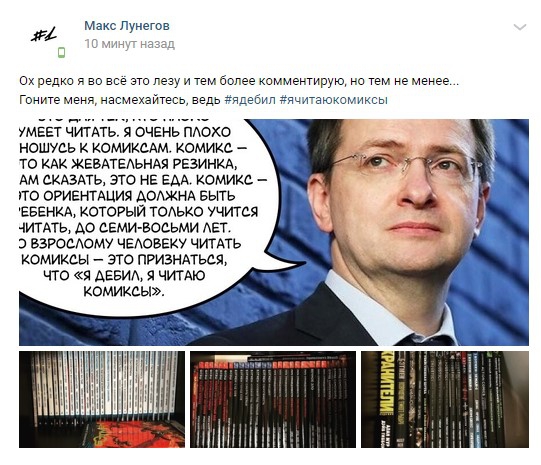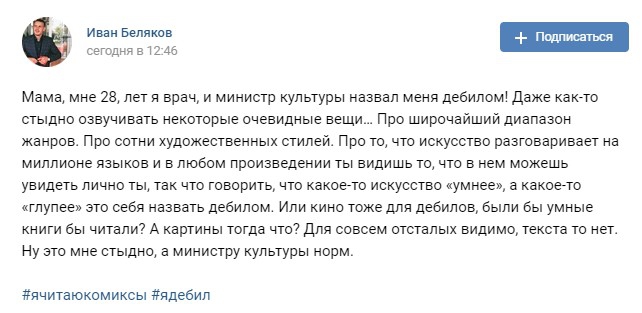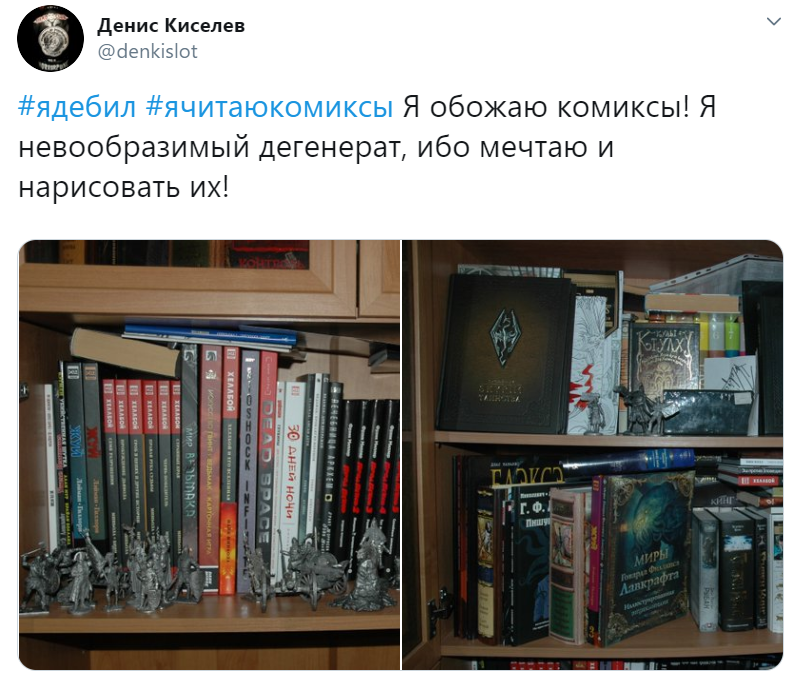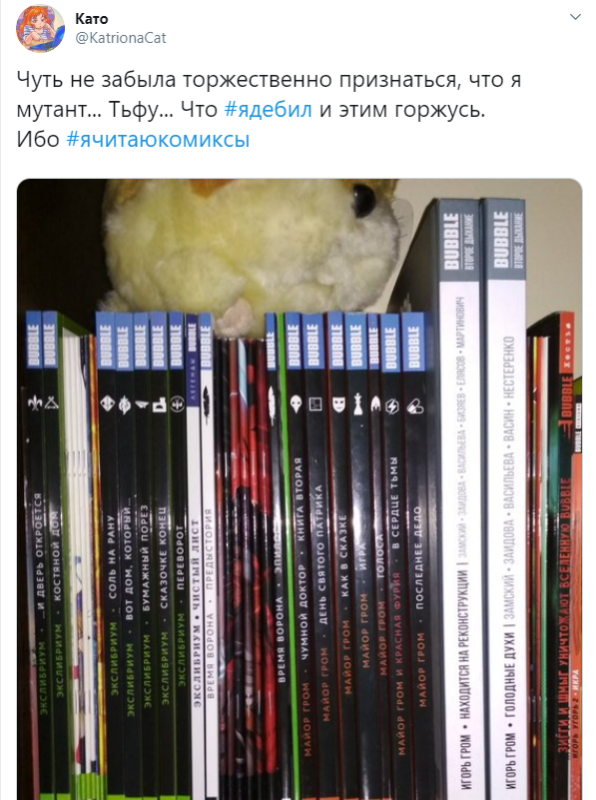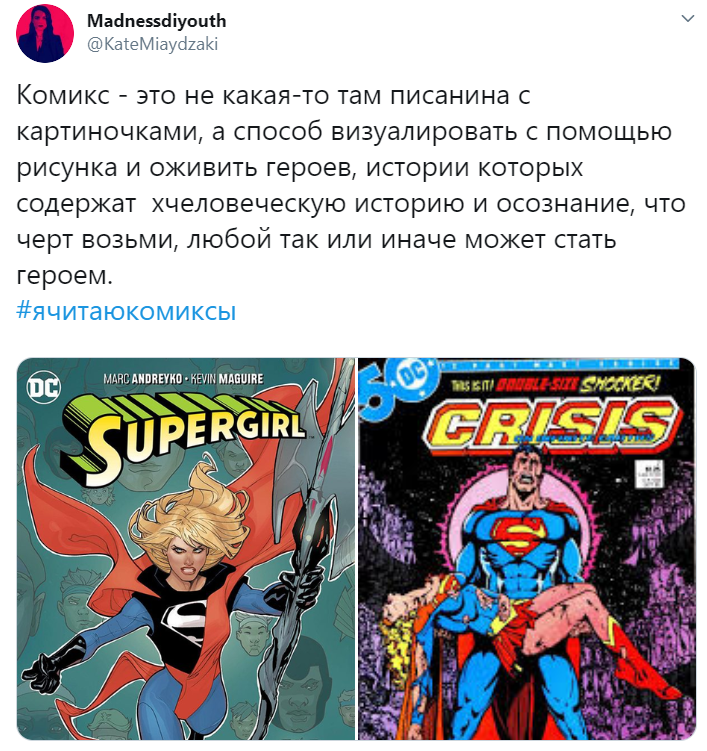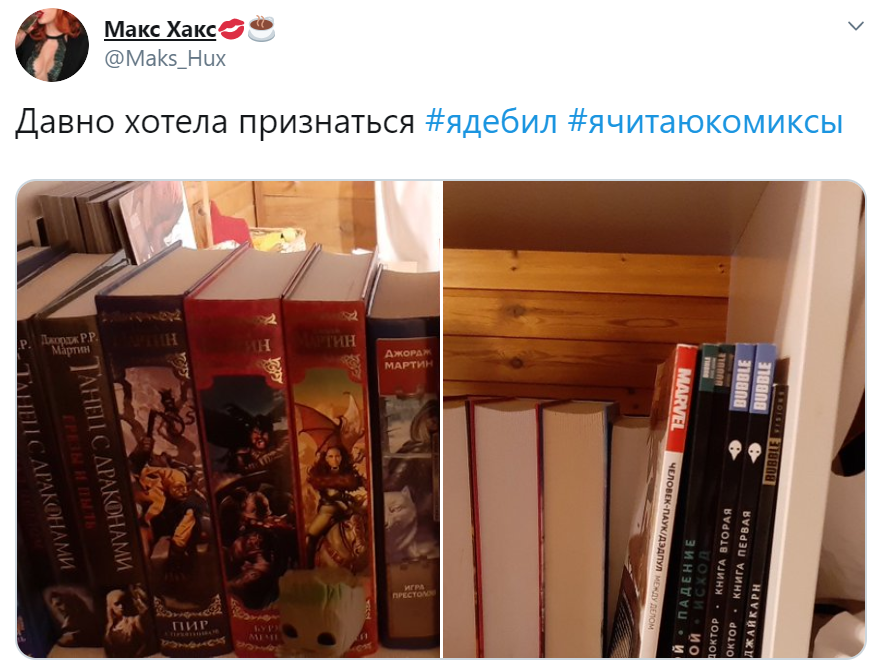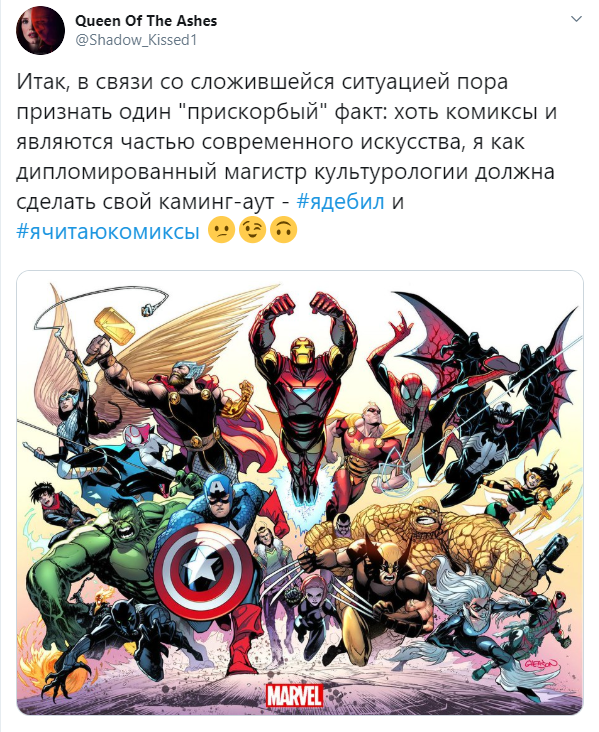 @-webkit-keyframes votes-bar{from{-webkit-transform:scaleX(0);-moz-transform:scaleX(0);-ms-transform:scaleX(0);-o-transform:scaleX(0);transform:scaleX(0)}to{-webkit-transform:scaleX(1);-moz-transform:scaleX(1);-ms-transform:scaleX(1);-o-transform:scaleX(1);transform:scaleX(1)}}@-moz-keyframes votes-bar{from{-webkit-transform:scaleX(0);-moz-transform:scaleX(0);-ms-transform:scaleX(0);-o-transform:scaleX(0);transform:scaleX(0)}to{-webkit-transform:scaleX(1);-moz-transform:scaleX(1);-ms-transform:scaleX(1);-o-transform:scaleX(1);transform:scaleX(1)}}@-ms-keyframes votes-bar{from{-webkit-transform:scaleX(0);-moz-transform:scaleX(0);-ms-transform:scaleX(0);-o-transform:scaleX(0);transform:scaleX(0)}to{-webkit-transform:scaleX(1);-moz-transform:scaleX(1);-ms-transform:scaleX(1);-o-transform:scaleX(1);transform:scaleX(1)}}@keyframes votes-bar{from{-webkit-transform:scaleX(0);-moz-transform:scaleX(0);-ms-transform:scaleX(0);-o-transform:scaleX(0);transform:scaleX(0)}to{-webkit-transform:scaleX(1);-moz-transform:scaleX(1);-ms-transform:scaleX(1);-o-transform:scaleX(1);transform:scaleX(1)}}#totalpoll-id-d751713988987e9331980363e24189ce.totalpoll-poll-container{line-height:1.5;font-family:inherit;font-size:14px}#totalpoll-id-d751713988987e9331980363e24189ce.totalpoll-poll-container
*{box-sizing:border-box;-webkit-box-sizing:border-box;-moz-box-sizing:border-box;-o-box-sizing:border-box;line-height:inherit;font-family:inherit;font-size:inherit}#totalpoll-id-d751713988987e9331980363e24189ce.totalpoll-poll-container div,#totalpoll-id-d751713988987e9331980363e24189ce.totalpoll-poll-container span,#totalpoll-id-d751713988987e9331980363e24189ce.totalpoll-poll-container applet,#totalpoll-id-d751713988987e9331980363e24189ce.totalpoll-poll-container object,#totalpoll-id-d751713988987e9331980363e24189ce.totalpoll-poll-container iframe,#totalpoll-id-d751713988987e9331980363e24189ce.totalpoll-poll-container h1,#totalpoll-id-d751713988987e9331980363e24189ce.totalpoll-poll-container h2,#totalpoll-id-d751713988987e9331980363e24189ce.totalpoll-poll-container h3,#totalpoll-id-d751713988987e9331980363e24189ce.totalpoll-poll-container h4,#totalpoll-id-d751713988987e9331980363e24189ce.totalpoll-poll-container h5,#totalpoll-id-d751713988987e9331980363e24189ce.totalpoll-poll-container h6,#totalpoll-id-d751713988987e9331980363e24189ce.totalpoll-poll-container p,#totalpoll-id-d751713988987e9331980363e24189ce.totalpoll-poll-container blockquote,#totalpoll-id-d751713988987e9331980363e24189ce.totalpoll-poll-container pre,#totalpoll-id-d751713988987e9331980363e24189ce.totalpoll-poll-container a,#totalpoll-id-d751713988987e9331980363e24189ce.totalpoll-poll-container abbr,#totalpoll-id-d751713988987e9331980363e24189ce.totalpoll-poll-container acronym,#totalpoll-id-d751713988987e9331980363e24189ce.totalpoll-poll-container address,#totalpoll-id-d751713988987e9331980363e24189ce.totalpoll-poll-container big,#totalpoll-id-d751713988987e9331980363e24189ce.totalpoll-poll-container cite,#totalpoll-id-d751713988987e9331980363e24189ce.totalpoll-poll-container code,#totalpoll-id-d751713988987e9331980363e24189ce.totalpoll-poll-container del,#totalpoll-id-d751713988987e9331980363e24189ce.totalpoll-poll-container dfn,#totalpoll-id-d751713988987e9331980363e24189ce.totalpoll-poll-container em,#totalpoll-id-d751713988987e9331980363e24189ce.totalpoll-poll-container font,#totalpoll-id-d751713988987e9331980363e24189ce.totalpoll-poll-container img,#totalpoll-id-d751713988987e9331980363e24189ce.totalpoll-poll-container ins,#totalpoll-id-d751713988987e9331980363e24189ce.totalpoll-poll-container kbd,#totalpoll-id-d751713988987e9331980363e24189ce.totalpoll-poll-container q,#totalpoll-id-d751713988987e9331980363e24189ce.totalpoll-poll-container s,#totalpoll-id-d751713988987e9331980363e24189ce.totalpoll-poll-container samp,#totalpoll-id-d751713988987e9331980363e24189ce.totalpoll-poll-container small,#totalpoll-id-d751713988987e9331980363e24189ce.totalpoll-poll-container strike,#totalpoll-id-d751713988987e9331980363e24189ce.totalpoll-poll-container strong,#totalpoll-id-d751713988987e9331980363e24189ce.totalpoll-poll-container sub,#totalpoll-id-d751713988987e9331980363e24189ce.totalpoll-poll-container sup,#totalpoll-id-d751713988987e9331980363e24189ce.totalpoll-poll-container tt,#totalpoll-id-d751713988987e9331980363e24189ce.totalpoll-poll-container var,#totalpoll-id-d751713988987e9331980363e24189ce.totalpoll-poll-container b,#totalpoll-id-d751713988987e9331980363e24189ce.totalpoll-poll-container i,#totalpoll-id-d751713988987e9331980363e24189ce.totalpoll-poll-container center,#totalpoll-id-d751713988987e9331980363e24189ce.totalpoll-poll-container dl,#totalpoll-id-d751713988987e9331980363e24189ce.totalpoll-poll-container dt,#totalpoll-id-d751713988987e9331980363e24189ce.totalpoll-poll-container dd,#totalpoll-id-d751713988987e9331980363e24189ce.totalpoll-poll-container ol,#totalpoll-id-d751713988987e9331980363e24189ce.totalpoll-poll-container ul,#totalpoll-id-d751713988987e9331980363e24189ce.totalpoll-poll-container li,#totalpoll-id-d751713988987e9331980363e24189ce.totalpoll-poll-container fieldset,#totalpoll-id-d751713988987e9331980363e24189ce.totalpoll-poll-container form,#totalpoll-id-d751713988987e9331980363e24189ce.totalpoll-poll-container label,#totalpoll-id-d751713988987e9331980363e24189ce.totalpoll-poll-container legend,#totalpoll-id-d751713988987e9331980363e24189ce.totalpoll-poll-container table,#totalpoll-id-d751713988987e9331980363e24189ce.totalpoll-poll-container caption,#totalpoll-id-d751713988987e9331980363e24189ce.totalpoll-poll-container tbody,#totalpoll-id-d751713988987e9331980363e24189ce.totalpoll-poll-container tfoot,#totalpoll-id-d751713988987e9331980363e24189ce.totalpoll-poll-container thead,#totalpoll-id-d751713988987e9331980363e24189ce.totalpoll-poll-container tr,#totalpoll-id-d751713988987e9331980363e24189ce.totalpoll-poll-container th,#totalpoll-id-d751713988987e9331980363e24189ce.totalpoll-poll-container td,#totalpoll-id-d751713988987e9331980363e24189ce.totalpoll-poll-container article,#totalpoll-id-d751713988987e9331980363e24189ce.totalpoll-poll-container aside,#totalpoll-id-d751713988987e9331980363e24189ce.totalpoll-poll-container audio,#totalpoll-id-d751713988987e9331980363e24189ce.totalpoll-poll-container canvas,#totalpoll-id-d751713988987e9331980363e24189ce.totalpoll-poll-container details,#totalpoll-id-d751713988987e9331980363e24189ce.totalpoll-poll-container figcaption,#totalpoll-id-d751713988987e9331980363e24189ce.totalpoll-poll-container figure,#totalpoll-id-d751713988987e9331980363e24189ce.totalpoll-poll-container footer,#totalpoll-id-d751713988987e9331980363e24189ce.totalpoll-poll-container header,#totalpoll-id-d751713988987e9331980363e24189ce.totalpoll-poll-container hgroup,#totalpoll-id-d751713988987e9331980363e24189ce.totalpoll-poll-container mark,#totalpoll-id-d751713988987e9331980363e24189ce.totalpoll-poll-container menu,#totalpoll-id-d751713988987e9331980363e24189ce.totalpoll-poll-container meter,#totalpoll-id-d751713988987e9331980363e24189ce.totalpoll-poll-container nav,#totalpoll-id-d751713988987e9331980363e24189ce.totalpoll-poll-container output,#totalpoll-id-d751713988987e9331980363e24189ce.totalpoll-poll-container progress,#totalpoll-id-d751713988987e9331980363e24189ce.totalpoll-poll-container section,#totalpoll-id-d751713988987e9331980363e24189ce.totalpoll-poll-container summary,#totalpoll-id-d751713988987e9331980363e24189ce.totalpoll-poll-container time,#totalpoll-id-d751713988987e9331980363e24189ce.totalpoll-poll-container
video{border:0;outline:0;vertical-align:baseline;background-color:transparent;margin:0;padding:0}#totalpoll-id-d751713988987e9331980363e24189ce.totalpoll-poll-container
body{line-height:1}#totalpoll-id-d751713988987e9331980363e24189ce.totalpoll-poll-container article,#totalpoll-id-d751713988987e9331980363e24189ce.totalpoll-poll-container aside,#totalpoll-id-d751713988987e9331980363e24189ce.totalpoll-poll-container dialog,#totalpoll-id-d751713988987e9331980363e24189ce.totalpoll-poll-container figure,#totalpoll-id-d751713988987e9331980363e24189ce.totalpoll-poll-container footer,#totalpoll-id-d751713988987e9331980363e24189ce.totalpoll-poll-container header,#totalpoll-id-d751713988987e9331980363e24189ce.totalpoll-poll-container hgroup,#totalpoll-id-d751713988987e9331980363e24189ce.totalpoll-poll-container nav,#totalpoll-id-d751713988987e9331980363e24189ce.totalpoll-poll-container section,#totalpoll-id-d751713988987e9331980363e24189ce.totalpoll-poll-container
blockquote{display:block}#totalpoll-id-d751713988987e9331980363e24189ce.totalpoll-poll-container ul,#totalpoll-id-d751713988987e9331980363e24189ce.totalpoll-poll-container
ol{list-style:none}#totalpoll-id-d751713988987e9331980363e24189ce.totalpoll-poll-container blockquote,#totalpoll-id-d751713988987e9331980363e24189ce.totalpoll-poll-container
q{quotes:none}#totalpoll-id-d751713988987e9331980363e24189ce.totalpoll-poll-container blockquote:before,#totalpoll-id-d751713988987e9331980363e24189ce.totalpoll-poll-container blockquote:after,#totalpoll-id-d751713988987e9331980363e24189ce.totalpoll-poll-container q:before,#totalpoll-id-d751713988987e9331980363e24189ce.totalpoll-poll-container q:after{content:none}#totalpoll-id-d751713988987e9331980363e24189ce.totalpoll-poll-container
ins{text-decoration:underline}#totalpoll-id-d751713988987e9331980363e24189ce.totalpoll-poll-container
del{text-decoration:line-through}#totalpoll-id-d751713988987e9331980363e24189ce.totalpoll-poll-container
mark{background:none}#totalpoll-id-d751713988987e9331980363e24189ce.totalpoll-poll-container abbr[title],#totalpoll-id-d751713988987e9331980363e24189ce.totalpoll-poll-container dfn[title]{border-bottom:1px dotted #000;cursor:help}#totalpoll-id-d751713988987e9331980363e24189ce.totalpoll-poll-container
table{border-collapse:collapse;border-spacing:0}#totalpoll-id-d751713988987e9331980363e24189ce.totalpoll-poll-container
hr{display:block;height:1px;border:0;border-top:1px solid #ccc;margin:1em
0;padding:0}#totalpoll-id-d751713988987e9331980363e24189ce.totalpoll-poll-container input[type=submit],#totalpoll-id-d751713988987e9331980363e24189ce.totalpoll-poll-container input[type=button],#totalpoll-id-d751713988987e9331980363e24189ce.totalpoll-poll-container
button{margin:0;padding:0}#totalpoll-id-d751713988987e9331980363e24189ce.totalpoll-poll-container input,#totalpoll-id-d751713988987e9331980363e24189ce.totalpoll-poll-container select,#totalpoll-id-d751713988987e9331980363e24189ce.totalpoll-poll-container
img{vertical-align:middle}#totalpoll-id-d751713988987e9331980363e24189ce.totalpoll-poll-container video,#totalpoll-id-d751713988987e9331980363e24189ce.totalpoll-poll-container
audio{vertical-align:bottom}#totalpoll-id-d751713988987e9331980363e24189ce.totalpoll-poll-container
img{max-width:100%}#totalpoll-id-d751713988987e9331980363e24189ce.totalpoll-poll-container
li{list-style:none inside}#totalpoll-id-d751713988987e9331980363e24189ce.totalpoll-poll-container ul:before,#totalpoll-id-d751713988987e9331980363e24189ce.totalpoll-poll-container li:before,#totalpoll-id-d751713988987e9331980363e24189ce.totalpoll-poll-container ul:after,#totalpoll-id-d751713988987e9331980363e24189ce.totalpoll-poll-container li:after{display:none;content:""}#totalpoll-id-d751713988987e9331980363e24189ce.totalpoll-poll-container .totalpoll-error-message{padding:1em;margin-bottom:1em;color:#F44336;background-color:#FFFAFB;border:1px
solid #F5BCC8;border-radius:4px}#totalpoll-id-d751713988987e9331980363e24189ce.totalpoll-poll-container .totalpoll-question{font-weight:bold;font-size:1.25em}#totalpoll-id-d751713988987e9331980363e24189ce.totalpoll-poll-container .totalpoll-choices{margin:1em
auto;border:1px
solid #DDD;border-radius:4px;overflow:hidden}#totalpoll-id-d751713988987e9331980363e24189ce.totalpoll-poll-container .totalpoll-choices:after{content:"";display:table;clear:both}#totalpoll-id-d751713988987e9331980363e24189ce.totalpoll-poll-container .totalpoll-choices .totalpoll-chart-canvas{padding:2em;border-bottom:1px solid #DDD}#totalpoll-id-d751713988987e9331980363e24189ce.totalpoll-poll-container .totalpoll-choices .totalpoll-choice-separator{clear:both;border-top:1px solid #DDD}#totalpoll-id-d751713988987e9331980363e24189ce.totalpoll-poll-container .totalpoll-choices .totalpoll-choice-separator:first-child{display:none}#totalpoll-id-d751713988987e9331980363e24189ce.totalpoll-poll-container .totalpoll-choices .totalpoll-choice:first-child{border-top:0}@media all and (min-width:992px){#totalpoll-id-d751713988987e9331980363e24189ce.totalpoll-poll-container .totalpoll-choices .totalpoll-choice{width:100.00%;float:left}}#totalpoll-id-d751713988987e9331980363e24189ce.totalpoll-poll-container .totalpoll-choices .totalpoll-choice .totalpoll-choice-image,#totalpoll-id-d751713988987e9331980363e24189ce.totalpoll-poll-container .totalpoll-choices .totalpoll-choice .totalpoll-choice-embed{position:relative}#totalpoll-id-d751713988987e9331980363e24189ce.totalpoll-poll-container .totalpoll-choices .totalpoll-choice .totalpoll-choice-image img,#totalpoll-id-d751713988987e9331980363e24189ce.totalpoll-poll-container .totalpoll-choices .totalpoll-choice .totalpoll-choice-embed
img{vertical-align:bottom}#totalpoll-id-d751713988987e9331980363e24189ce.totalpoll-poll-container .totalpoll-choices .totalpoll-choice .totalpoll-choice-image:after,#totalpoll-id-d751713988987e9331980363e24189ce.totalpoll-poll-container .totalpoll-choices .totalpoll-choice .totalpoll-choice-embed:after{content:";position:absolute;bottom:0;left:1em;width:0;height:0;border-left:0.5em solid transparent;border-right:0.5em solid transparent;border-bottom:0.5em solid #FFF;line-height:0}#totalpoll-id-d751713988987e9331980363e24189ce.totalpoll-poll-container .totalpoll-choices .totalpoll-choice .totalpoll-choice-embed video,#totalpoll-id-d751713988987e9331980363e24189ce.totalpoll-poll-container .totalpoll-choices .totalpoll-choice audio,#totalpoll-id-d751713988987e9331980363e24189ce.totalpoll-poll-container .totalpoll-choices .totalpoll-choice
iframe{width:100%;vertical-align:bottom}#totalpoll-id-d751713988987e9331980363e24189ce.totalpoll-poll-container .totalpoll-choices .totalpoll-choice .totalpoll-choice-embed-image{position:relative;display:block}#totalpoll-id-d751713988987e9331980363e24189ce.totalpoll-poll-container .totalpoll-choices .totalpoll-choice .totalpoll-choice-embed-image:before,#totalpoll-id-d751713988987e9331980363e24189ce.totalpoll-poll-container .totalpoll-choices .totalpoll-choice .totalpoll-choice-embed-image:after{content:";position:absolute;top:0;right:0;bottom:0;left:0;width:100%;height:100%}#totalpoll-id-d751713988987e9331980363e24189ce.totalpoll-poll-container .totalpoll-choices .totalpoll-choice .totalpoll-choice-embed-image:before{background:-moz-radial-gradient(center,ellipse cover,transparent 0%,rgba(0,0,0,0.65) 100%);background:-webkit-radial-gradient(center,ellipse cover,transparent 0%,rgba(0,0,0,0.65) 100%);background:radial-gradient(ellipse at center,transparent 0%,rgba(0,0,0,0.65) 100%);filter:progid:DXImageTransform.Microsoft.gradient(startColorstr='#00000000′,endColorstr='#a6000000′,GradientType=1)}#totalpoll-id-d751713988987e9331980363e24189ce.totalpoll-poll-container .totalpoll-choices .totalpoll-choice .totalpoll-choice-embed-image:after{content:'▶';margin:auto;height:0;line-height:0;font-size:4em;color:white;text-align:center;text-shadow:0 1px 30px rgba(0,0,0,0.75)}#totalpoll-id-d751713988987e9331980363e24189ce.totalpoll-poll-container .totalpoll-choices .totalpoll-choice .totalpoll-choice-embed-image+.totalpoll-choice-embed-code{display:none}#totalpoll-id-d751713988987e9331980363e24189ce.totalpoll-poll-container .totalpoll-choices .totalpoll-choice .totalpoll-choice-embed.run .totalpoll-choice-embed-image{display:none}#totalpoll-id-d751713988987e9331980363e24189ce.totalpoll-poll-container .totalpoll-choices .totalpoll-choice .totalpoll-choice-embed.run .totalpoll-choice-embed-code{display:block}#totalpoll-id-d751713988987e9331980363e24189ce.totalpoll-poll-container .totalpoll-choices .totalpoll-choice .totalpoll-choice-container{display:table;width:100%;color:inherit;background-color:#FFF;border-right:1px solid #DDD}#totalpoll-id-d751713988987e9331980363e24189ce.totalpoll-poll-container .totalpoll-choices .totalpoll-choice .totalpoll-choice-checkbox-container,#totalpoll-id-d751713988987e9331980363e24189ce.totalpoll-poll-container .totalpoll-choices .totalpoll-choice .totalpoll-choice-content{display:table-cell;vertical-align:middle}#totalpoll-id-d751713988987e9331980363e24189ce.totalpoll-poll-container .totalpoll-choices .totalpoll-choice .totalpoll-choice-checkbox-container{width:8%;max-width:50px;min-width:50px;padding:0
1em;line-height:1;text-align:center;border-right:1px dashed #DDD}#totalpoll-id-d751713988987e9331980363e24189ce.totalpoll-poll-container .totalpoll-choices .totalpoll-choice .totalpoll-choice-checkbox-container
input{outline:0;padding:1em}#totalpoll-id-d751713988987e9331980363e24189ce.totalpoll-poll-container .totalpoll-choices .totalpoll-choice .totalpoll-choice-content{padding:1em;word-break:break-word}#totalpoll-id-d751713988987e9331980363e24189ce.totalpoll-poll-container .totalpoll-choices .totalpoll-choice.last-in-row .totalpoll-choice-container{border-right:0}#totalpoll-id-d751713988987e9331980363e24189ce.totalpoll-poll-container .totalpoll-choices .totalpoll-choice.checked .totalpoll-choice-image:after,#totalpoll-id-d751713988987e9331980363e24189ce.totalpoll-poll-container .totalpoll-choices .totalpoll-choice.checked .totalpoll-choice-embed:after{border-bottom-color:#FAFAFA}#totalpoll-id-d751713988987e9331980363e24189ce.totalpoll-poll-container .totalpoll-choices .totalpoll-choice.checked .totalpoll-choice-container{color:inherit;background-color:#FAFAFA}#totalpoll-id-d751713988987e9331980363e24189ce.totalpoll-poll-container .totalpoll-choices .totalpoll-choice.checked .totalpoll-choice-container:hover{color:inherit;background-color:#FAFAFA}#totalpoll-id-d751713988987e9331980363e24189ce.totalpoll-poll-container .totalpoll-choices .totalpoll-choice.checked .totalpoll-choice-checkbox-container{border-right-color:#DDD}#totalpoll-id-d751713988987e9331980363e24189ce.totalpoll-poll-container .totalpoll-choices .totalpoll-choice.checked .totalpoll-choice-checkbox-container:hover{border-right-color:#DDD}#totalpoll-id-d751713988987e9331980363e24189ce.totalpoll-poll-container .totalpoll-choices .totalpoll-choice.checked .totalpoll-choice-checkbox-container:before{font-weight:bold}#totalpoll-id-d751713988987e9331980363e24189ce.totalpoll-poll-container .totalpoll-view-vote .totalpoll-choices .totalpoll-choice-container{cursor:pointer}#totalpoll-id-d751713988987e9331980363e24189ce.totalpoll-poll-container .totalpoll-view-vote .totalpoll-choices .totalpoll-choice-container:hover{color:inherit;background-color:#FAFAFA}#totalpoll-id-d751713988987e9331980363e24189ce.totalpoll-poll-container .totalpoll-view-results .totalpoll-choices .totalpoll-choice .totalpoll-choice-votes{position:relative;display:table;width:100%;margin-top:1em;line-height:1;font-size:85%}#totalpoll-id-d751713988987e9331980363e24189ce.totalpoll-poll-container .totalpoll-view-results .totalpoll-choices .totalpoll-choice .totalpoll-choice-votes>div{display:table-cell}#totalpoll-id-d751713988987e9331980363e24189ce.totalpoll-poll-container .totalpoll-view-results .totalpoll-choices .totalpoll-choice .totalpoll-choice-votes-bar{-webkit-animation-fill-mode:both;-moz-animation-fill-mode:both;-o-animation-fill-mode:both;animation-fill-mode:both;-webkit-transform-origin:left;-moz-transform-origin:left;-ms-transform-origin:left;-o-transform-origin:left;transform-origin:left;-webkit-animation:votes-bar 1000ms ease-out;-o-animation:votes-bar 1000ms ease-out;animation:votes-bar 1000ms ease-out;border-radius:4px;background:#2196F3;background:-moz-linear-gradient(left,#2196F3 0%,#1976D2 100%);background:-webkit-gradient(linear,left top,right top,color-stop(0%,#2196F3),color-stop(100%,#1976D2));background:-webkit-linear-gradient(left,#2196F3 0%,#1976D2 100%);background:-o-linear-gradient(left,#2196F3 0%,#1976D2 100%);background:-ms-linear-gradient(left,#2196F3 0%,#1976D2 100%);background:linear-gradient(to right,#2196F3 0%,#1976D2 100%);filter:progid:DXImageTransform.Microsoft.gradient(startColorstr='#2196F3′,endColorstr='#1976D2′,GradientType=1)}#totalpoll-id-d751713988987e9331980363e24189ce.totalpoll-poll-container .totalpoll-view-results .totalpoll-choices .totalpoll-choice .totalpoll-choice-votes-text{white-space:nowrap;padding-left:1em}#totalpoll-id-d751713988987e9331980363e24189ce.totalpoll-poll-container .totalpoll-view-results .totalpoll-choices .totalpoll-choice .totalpoll-choice-votes .totalpoll-choice-votes-bar-0{display:none}#totalpoll-id-d751713988987e9331980363e24189ce.totalpoll-poll-container .totalpoll-view-results .totalpoll-choices .totalpoll-choice .totalpoll-choice-votes .totalpoll-choice-votes-bar-0+.totalpoll-choice-votes-text{padding-left:0}#totalpoll-id-d751713988987e9331980363e24189ce.totalpoll-poll-container .totalpoll-fields .totalpoll-field-wrapper
label{display:block;margin-bottom:1rem}#totalpoll-id-d751713988987e9331980363e24189ce.totalpoll-poll-container .totalpoll-fields .totalpoll-field-wrapper .totalpoll-fields-field{border-radius:4px}#totalpoll-id-d751713988987e9331980363e24189ce.totalpoll-poll-container .totalpoll-fields .totalpoll-field-wrapper .totalpoll-field-error{margin-top:1em;margin-bottom:1em;padding-bottom:1em;border-bottom:1px solid #DDD;color:#F44336;border-radius:4px}#totalpoll-id-d751713988987e9331980363e24189ce.totalpoll-poll-container .totalpoll-fields .totalpoll-field-wrapper+.totalpoll-field-wrapper{margin-top:1.5em}#totalpoll-id-d751713988987e9331980363e24189ce.totalpoll-poll-container .totalpoll-fields-field{width:100%}#totalpoll-id-d751713988987e9331980363e24189ce.totalpoll-poll-container .totalpoll-fields-field[type=checkbox],#totalpoll-id-d751713988987e9331980363e24189ce.totalpoll-poll-container .totalpoll-fields-field[type=radio]{width:auto;margin-right:0.5em}#totalpoll-id-d751713988987e9331980363e24189ce.totalpoll-poll-container .totalpoll-buttons{margin-top:1em;text-align:right}#totalpoll-id-d751713988987e9331980363e24189ce.totalpoll-poll-container .totalpoll-buttons .totalpoll-button{display:block;padding:1em
2em;margin-bottom:1em;width:100%;color:inherit;background-color:#F5F5F5;border:1px
solid #EEE;line-height:1;text-decoration:none;border-radius:4px}#totalpoll-id-d751713988987e9331980363e24189ce.totalpoll-poll-container .totalpoll-buttons .totalpoll-button:hover,#totalpoll-id-d751713988987e9331980363e24189ce.totalpoll-poll-container .totalpoll-buttons .totalpoll-button:focus,#totalpoll-id-d751713988987e9331980363e24189ce.totalpoll-poll-container .totalpoll-buttons .totalpoll-button:active{color:inherit;background-color:#EEE;border-color:#EEE}#totalpoll-id-d751713988987e9331980363e24189ce.totalpoll-poll-container .totalpoll-buttons .totalpoll-button.totalpoll-button-primary{color:#FFF;background-color:#2196F3;border-color:#2196F3}#totalpoll-id-d751713988987e9331980363e24189ce.totalpoll-poll-container .totalpoll-buttons .totalpoll-button.totalpoll-button-primary:hover,#totalpoll-id-d751713988987e9331980363e24189ce.totalpoll-poll-container .totalpoll-buttons .totalpoll-button.totalpoll-button-primary:focus,#totalpoll-id-d751713988987e9331980363e24189ce.totalpoll-poll-container .totalpoll-buttons .totalpoll-button.totalpoll-button-primary:active{color:#FFF;background-color:#1976D2;border-color:#1976D2}#totalpoll-id-d751713988987e9331980363e24189ce.totalpoll-poll-container .totalpoll-buttons .totalpoll-button.totalpoll-button-primary{color:#FFF;background-color:#2196F3;border-color:#2196F3}#totalpoll-id-d751713988987e9331980363e24189ce.totalpoll-poll-container .totalpoll-buttons .totalpoll-button.totalpoll-button-primary:hover,#totalpoll-id-d751713988987e9331980363e24189ce.totalpoll-poll-container .totalpoll-buttons .totalpoll-button.totalpoll-button-primary:focus,#totalpoll-id-d751713988987e9331980363e24189ce.totalpoll-poll-container .totalpoll-buttons .totalpoll-button.totalpoll-button-primary:active{color:#FFF;background-color:#1976D2;border-color:#1976D2}#totalpoll-id-d751713988987e9331980363e24189ce.totalpoll-poll-container .totalpoll-buttons .totalpoll-button.totalpoll-button-link{background:transparent;border:0}#totalpoll-id-d751713988987e9331980363e24189ce.totalpoll-poll-container .totalpoll-buttons .totalpoll-button.totalpoll-button-link:hover,#totalpoll-id-d751713988987e9331980363e24189ce.totalpoll-poll-container .totalpoll-buttons .totalpoll-button.totalpoll-button-link:focus,#totalpoll-id-d751713988987e9331980363e24189ce.totalpoll-poll-container .totalpoll-buttons .totalpoll-button.totalpoll-button-link:active{text-decoration:underline}#totalpoll-id-d751713988987e9331980363e24189ce.totalpoll-poll-container .totalpoll-buttons .totalpoll-button[disabled]{opacity:0.5;cursor:not-allowed}@media all and (min-width:992px){#totalpoll-id-d751713988987e9331980363e24189ce.totalpoll-poll-container .totalpoll-buttons .totalpoll-button{display:inline-block;width:auto;margin-bottom:0}#totalpoll-id-d751713988987e9331980363e24189ce.totalpoll-poll-container .totalpoll-buttons .totalpoll-button+.totalpoll-button{margin-left:1em}#totalpoll-id-d751713988987e9331980363e24189ce.totalpoll-poll-container .totalpoll-buttons .totalpoll-button.totalpoll-button-next{float:right;margin-left:0}#totalpoll-id-d751713988987e9331980363e24189ce.totalpoll-poll-container .totalpoll-buttons .totalpoll-button.totalpoll-button-previous{float:left;margin-left:0}}#totalpoll-id-d751713988987e9331980363e24189ce.totalpoll-poll-container .totalpoll-buttons .totalpoll-buttons-pagination{padding:1em;margin-bottom:1em;border:1px
solid #DDD;border-radius:4px}#totalpoll-id-d751713988987e9331980363e24189ce.totalpoll-poll-container .totalpoll-buttons .totalpoll-buttons-pagination:after{content:"";display:table;clear:both}#totalpoll-id-d751713988987e9331980363e24189ce.totalpoll-poll-container .totalpoll-captcha{margin-top:1em;margin-bottom:1em}#totalpoll-id-d751713988987e9331980363e24189ce.totalpoll-poll-container .totalpoll-captcha:after{content:"";display:table;clear:both}#totalpoll-id-d751713988987e9331980363e24189ce.totalpoll-poll-container .totalpoll-captcha>div{float:right}#totalpoll-id-d751713988987e9331980363e24189ce.totalpoll-poll-container.totalpoll-rtl .totalpoll-choices .totalpoll-choice .totalpoll-choice-image:after,#totalpoll-id-d751713988987e9331980363e24189ce.totalpoll-poll-container.totalpoll-rtl .totalpoll-choices .totalpoll-choice .totalpoll-choice-embed:after{left:auto !important;right:1em !important}#totalpoll-id-d751713988987e9331980363e24189ce.totalpoll-poll-container.totalpoll-rtl .totalpoll-choices .totalpoll-choice .totalpoll-choice-checkbox-container{border-right:none;border-left:1px dashed #DDD}#totalpoll-id-d751713988987e9331980363e24189ce.totalpoll-poll-container.totalpoll-rtl .totalpoll-view-results .totalpoll-choices .totalpoll-choice .totalpoll-choice-votes-text{padding-right:1em;padding-left:0}#totalpoll-id-d751713988987e9331980363e24189ce.totalpoll-poll-container.totalpoll-rtl .totalpoll-view-results .totalpoll-choices .totalpoll-choice .totalpoll-choice-votes-bar{-webkit-transform-origin:right;-moz-transform-origin:right;-ms-transform-origin:right;-o-transform-origin:right;transform-origin:right;background:#2196F3;background:-moz-linear-gradient(right,#2196F3 0%,#1976D2 100%);background:-webkit-gradient(linear,right top,left top,color-stop(0%,#2196F3),color-stop(100%,#1976D2));background:-webkit-linear-gradient(right,#2196F3 0%,#1976D2 100%);background:-o-linear-gradient(right,#2196F3 0%,#1976D2 100%);background:-ms-linear-gradient(right,#2196F3 0%,#1976D2 100%);background:linear-gradient(to left,#2196F3 0%,#1976D2 100%);filter:progid:DXImageTransform.Microsoft.gradient(startColorstr='#2196F3′,endColorstr='#1976D2′,GradientType=1)}#totalpoll-id-d751713988987e9331980363e24189ce.totalpoll-poll-container.totalpoll-rtl .totalpoll-buttons{text-align:left}#totalpoll-id-d751713988987e9331980363e24189ce.totalpoll-poll-container.totalpoll-rtl .totalpoll-buttons .totalpoll-button-next{float:left;margin-right:0}#totalpoll-id-d751713988987e9331980363e24189ce.totalpoll-poll-container.totalpoll-rtl .totalpoll-buttons .totalpoll-button-previous{float:right;margin-right:0}#totalpoll-id-d751713988987e9331980363e24189ce.totalpoll-poll-container.totalpoll-rtl .totalpoll-buttons .totalpoll-button+.totalpoll-button{margin-left:0;margin-right:1em}#totalpoll-id-d751713988987e9331980363e24189ce.totalpoll-poll-container.totalpoll-rtl .totalpoll-fields-field[type=checkbox],#totalpoll-id-d751713988987e9331980363e24189ce.totalpoll-poll-container.totalpoll-rtl .totalpoll-fields-field[type=radio]{margin-left:0.5em;margin-right:0}