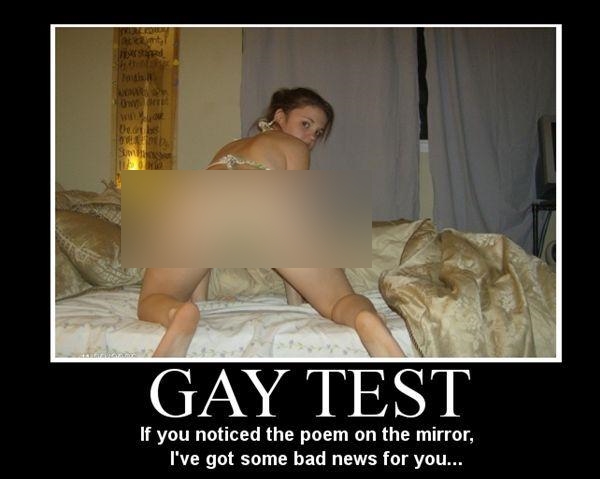 Gay Test (Test Gay Test gay) — became known in the form of demotivators meme. In this comic trying to determine whether the viewer is a homosexual, depending on what he will pay attention.
Origin
The first «gay test» (without the censorship) in the form of administration was issued on 29 October 2007 on the website Evilmilk: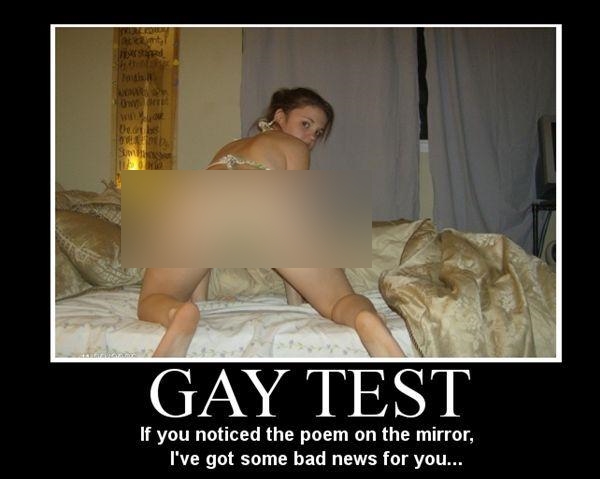 GAY TEST
If you noticed the verse on the mirror
I have bad news for you…
After that variation with a similar pattern began to form and spread out in different parts of the network. Memes on this topic are created for this day, and phrases of this pattern and now can be found in the discussions.
The image usually consists of three main elements:
At least one girl in any place on the photo

Something that should distract the viewer from the girl

The inscription, which reads: «GATE TEST: If you (immediately or at all) noticed *that should distract*, I have bad news for you…»
Most of these pictures (if not all) relate only to the audience-men. In very rare cases, the inscription will touch someone else.
The value
Of course, this meme does not warrant the accuracy of the result, because sometimes it specifically put something as distracting or invisible at first glance. In this and built almost all the humor.
And this meme can rightly be considered a real classic of the Internet as it not only contains the popular theme of erotica, wrapped up in the famous format of the pictures, but it is able to generate a new stream of humor from seemingly outdated template, which is already 11 years old. And the number of variations and adaptations for different languages of the world can no longer be counted, which also speaks about his status and fame.
Gallery