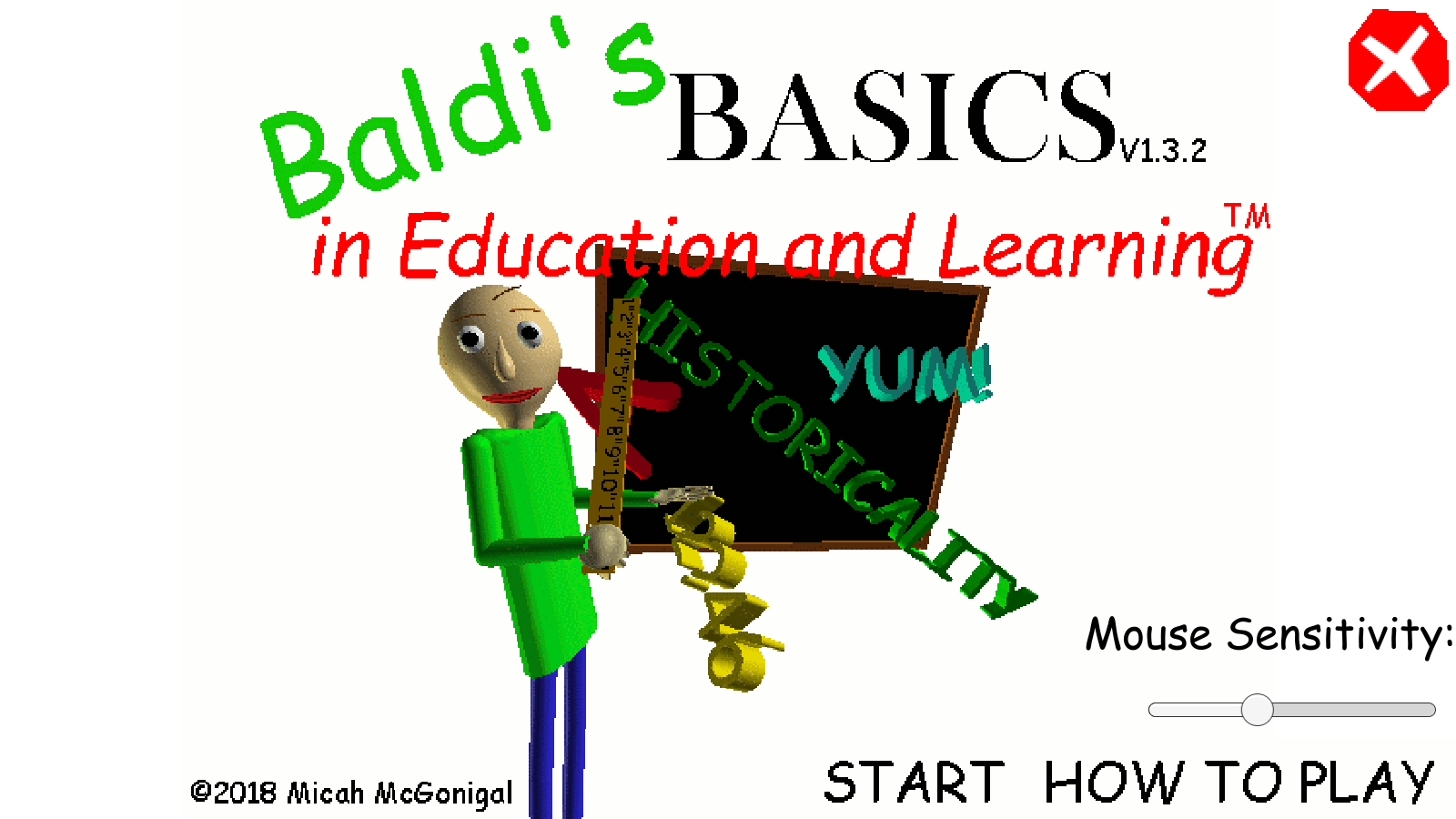 Baldi»s Basics in Education and Learning, or just Baldi»s Basics — it's a video game in the genre of indie-horror, based on educational video games of the 90-ies, and parodying them. The main character of the game is the character named Baldi that asking to solve a mathematical problem is trying to stop the player running with the school.
Origin
March 31, 2018, an independent game developer named Mike Mcgonigal announced the release Baldi's Basics. The essence of the game and some tips provided by the author in the description of his creation:
«Inspired by the spooky games of tutorials of 90-ies (Sonic' s Schoolhouse, IM Meen, 3D Dinosaur Adventure Save the Dinosaurs), this game starts out seemingly innocuous enough, but it soon becomes clear that this is not a simple pastime. Collect all 7 laptops and run from school, while avoiding Baldi. Have Baldi have many friends who will stop you and put you at risk of being caught. So you better learn how each character works and how you can avoid their attention. Find and use different objects. Oh, and finally, try to answer the quiz questions right… Every wrong answer makes Baldi angry…»
Also on the release of your game Mcgonigal wrote in his Twitter, gathering more than a thousand likes and about two hundred responses.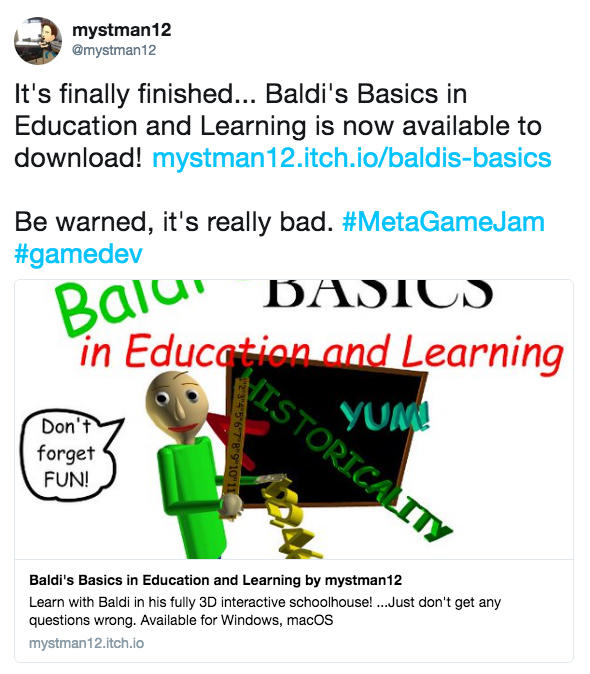 The game was created as part of the competition Meta Game Jam, in which users try to create a game that can «break the fourth wall». The game is about Baldi in the end took 2nd place.
12 April 2018 on the website Kotaku, dedicated to video games, left a positive review for a free Baldi's Basics. In the review it was called the game, «making the math even worse.»
May 28, 2018 the YouTube user Markiplier has published a recording of live gameplay on this game.
[embedded content]
The movie has collected nearly 9 million views.
The same day user under the name windy31 downloaded Russian the passage of this game, garnering almost 4 million views.
[embedded content]
24 Jul 2018 the Creator Baldi»s Basics has opened a campaign to raise money on Kickstarter, is aimed at further development and expansion of the game. In one week he managed to gather more than 20 thousand dollars. In the end, the goal of 50 thousand dollars was exceeded — the game has collected more than 60 thousand.
The value
The game was meant primarily as a parody of children's educational games from the 90s and was created based on the approximate parameters of graphics and gameplay then games. The author also decided to add a horror component to my game in order to add players of interest to solve mathematical problems.
In the end, the Creator managed to make a game that breaks the «fourth wall», thus deeper tightening in non-standard gameplay. That is why, at first glance, hideous by today's standards the game has become so famous in the network.
Gallery