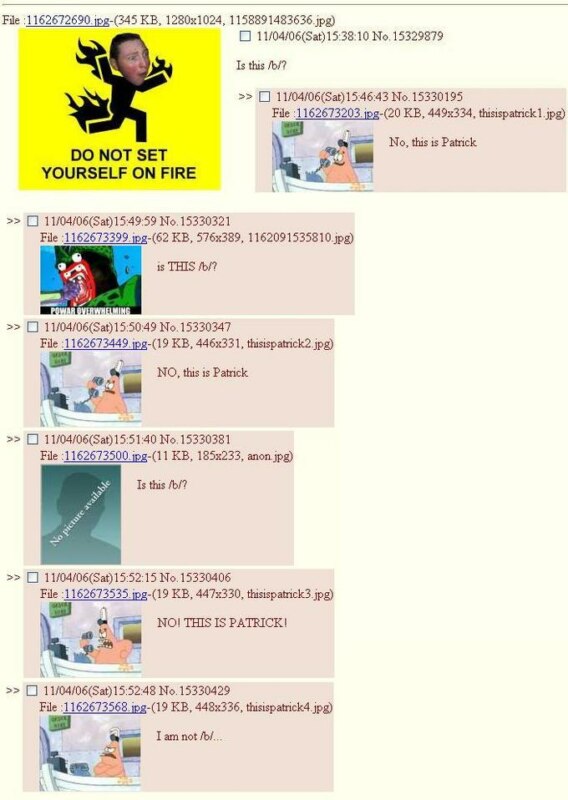 No, this is Patrick (No, This is Patrick) is a quote character Patrick starfish, one of the heroes of the animated series "spongebob Squarepants" (SpongeBob Squarepants). This phrase and frame at the moment of its utterance are often used as mix or bonding with other videos on YouTube.
Origin
16 November 2000 was released 5 series 2 season of "spongebob Squarepants" called "Big pink loser" (Big Pink Loser). In this episode, Patrick gets a job in restaurant Krusty Krab, where his friend spongebob. Patrick asked me to answer calls. But he, foolishly, replied on behalf of the restaurant, and on its own behalf. To the question "is This the Krusty Krab?" he emotionally answered, "No, this is Patrick!" and immediately hung up.
[embedded content]
4 November 2006 imigrate 4chan under /b/ there was a chain of comments in which to the question: "Is /b/?" replied one of the screenshots from the episode where Patrick yells, "No, this is Patrick".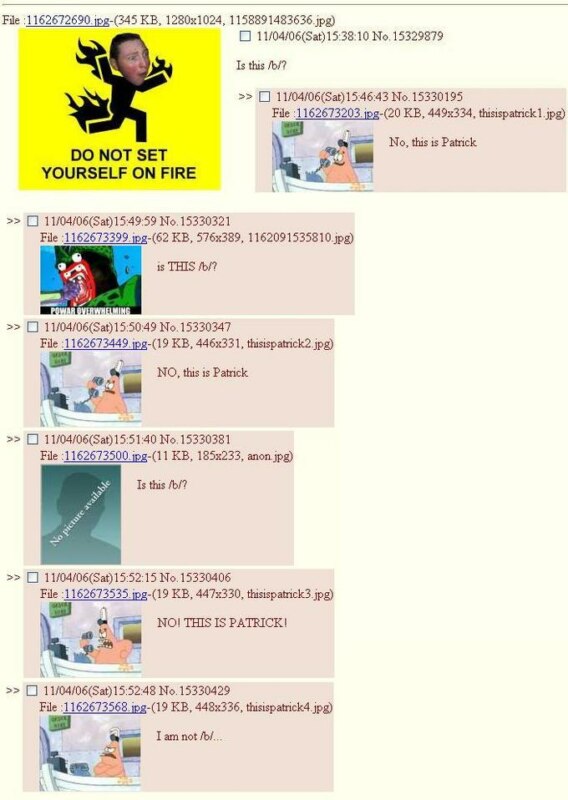 19 may 2007 user under the name ItamiBukoto uploaded on YouTube a video where this scene with Patrick from "Sponge Bob" was imposed on the famous scene "This is Sparta!" from the movie "300" in 2007. For several years, the video received over three million views and about 9 thousand comments.
In Runet perezalivat "Spartan" video where Patrick meets Leonid appeared in 2011, and a full mash-up video with a Russian speaking Patrick and all episodes in Russian language on YouTube were filled in 2012-2013.
The value
A picture, GIF or video with Patrick, who screams "No, this is Patrick" is used in the answer to the question to which the answer is either too obvious, or can be equivalent to ambiguous. Sometimes it is necessary to take into account the context of the question, especially the question whether it "It *?" (Is this *?).
Patrick often "respond" to different statements, like "This is Sparta!", in order to give typically the serious moment of Comedy and just laugh.
See also
Gallery
Dialogue Patrick in 24 languages of the world:
[embedded content]